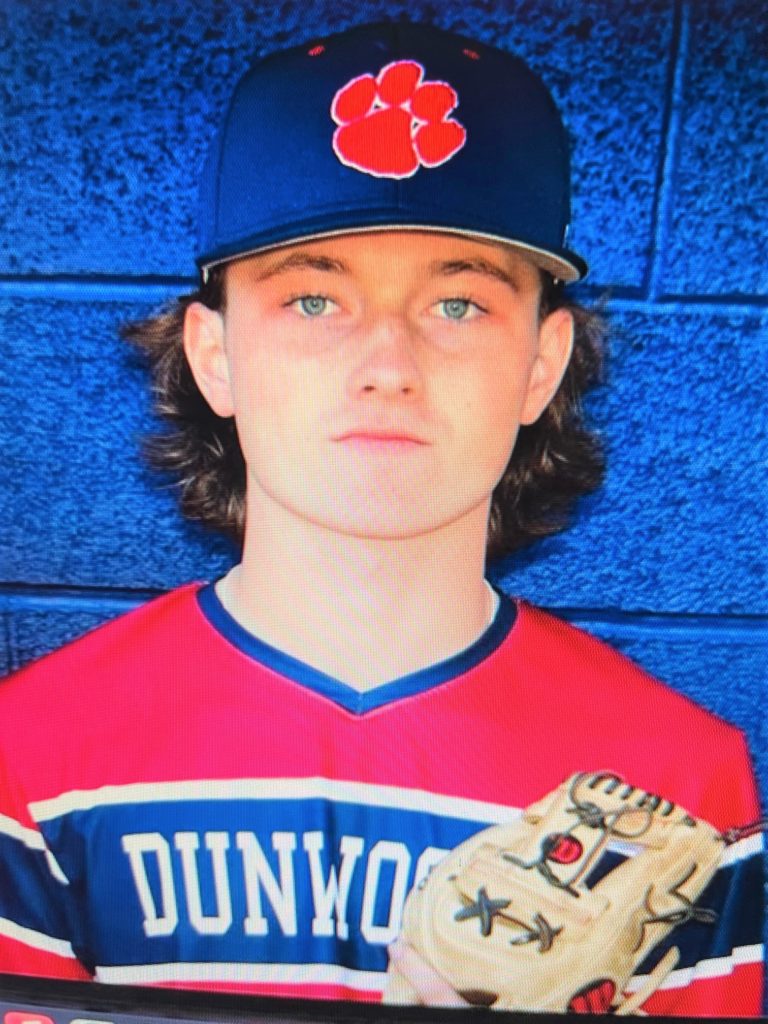 Will Giles 5′ 11″ 175 lbs. SS/2B/3B/P Bats R Throws R 2 Year Varsity – 4 Year Player, Multiple Sport Athlete, Dunwoody HS Dunwoody, GA. Scholar Athlete 3.4 GPA 25 ACT Class of 2022, AP & Honors Classes, Finance Academy Member, Junior Year Stats: .373 BA, 22 RBI 33 Games. Travel Ball Teams: North Atlanta Thunder – Sandy Springs Storm Coach Michael Grove 770-823-4801 E-mail: MGrove@css.edu. Southeast Sox Baseball 18U Coach Cagle 678-372-3854 E-mail: Southeastsoxbaseball@gmail.com – Coach Basilio – 786-637-0321

Congratulations Will on your recent commitment to Coastal AL East!

Will Giles is a versatile and talented athlete. He's able to play multiple infield positions, pitch and is a reckoning force in the batter's box. Junior Year Stats: .373 BA, 22 RBI 33 games, as a 2 year Varsity starter and a 4 Year player. In addition, he's a well rounded athlete competing in others sports; he played basketball at Dunwoody HS as well as baseball.
Will Giles on the academic side is a "Scholar Athlete" carrying a 3.4 GPA, numerous AP and Honors Classes, and has scored a 25 on the ACT Exam. He's a graduation candidate for the year 2022 and his desired college major is Business with a minor in Literature.
Coaches Comments
North Atlanta Thunder –
Coach Michael Grove 770-823-4801 E-mail: MGrove@css.edu

Coaching Will Giles was more like playing along side of him. His baseball IQ, etiquette, and pure athleticism, set him apart. Not only does he shine on the field, he's also a leader his teammates look up to. Will played a rock solid infield for me and was a stud on the mound as well. But no matter where I placed him, he performed and gave it his all at 110%; and his performances always stood out. Will is the kind of player a coach likes to follow along on their journey as they grow up; watching their success knowing you had a small part! I miss coaching this one! "Kids a Player!"

2022 Game Footage AB's Def 3B-SS 3 min 15 secs
If you are unable to view the video below click here

Personal Statistics
Height 5′ 11″ Weight 175 lbs.
Bats R Throws R
Position/s: SS/2B/3B/P
2 Year Varsity – 4 Year Player
Multiple Sport Athlete – Dunwoody Basketball

Academics:
3.4 GPA 25 ACT
Finance Academy Member
AP Classes:
Government & Politics
Comparative Government
Macroeconomics
Human Geography
Honors Classes:
British & World Literature
American Literature
Literature Composition
Chemistry & Pre-Calculus

Honors Achievements Activities
Scholar Athlete – AP & Honors Classes
3.4 GPA 25 ACT Class of 2022
Finance Academy Member
Multiple Sport Athlete – Basketball & Baseball
Versatile Infielder – Skilled at Multiple Positions
Junior Year Stats: .373 BA 22 RBI 33 Games
Certified Umpire – Little League

Contact information

Prospect:
Will Giles 404-426-1211
Email- willgiles34@gmail.com
Twitter- @Willgiles22
Parent/s
Lori Giles 770-597-7673
Email: lorihgiles@msn.com
Travel Baseball
North Atlanta Thunder – Sandy Springs Storm
Coach Michael Grove 770-823-4801
E-mail: MGrove@css.edu
Coach Wally 770-402-3043

Southeast Sox Baseball 18U
Coach Cagle 678-372-3854
E-mail: Southeastsoxbaseball@gmail.com
Coach Chris Basilio – 786-637-0321
DHS Head Varsity Baseball Coach
Chan English 770-634-1387
E-mail: william_english@dekalbschoolsga.org

DHS Asst Varsity Baseball Coach
Jake Hill 678-874-8502
E-mail: george_o_hill@dekalbschools.org