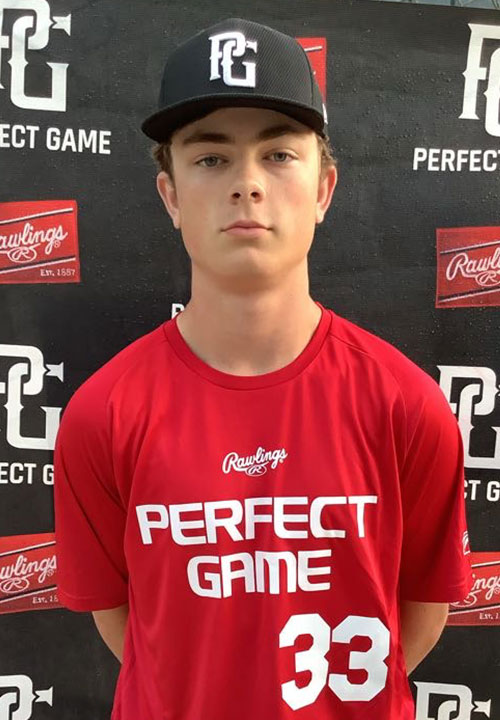 Carson Tice 6′ 4″ 200 lbs. Junior, Bats R Throws R RHP/IB/OF, 3.3 GPA AP Classes, Perfect Game – High Follow, Travel Baseball: Georgia Bombers Victus, Alpharetta, GA, Jersey #13 Ninth Inning Royals, Chamblee, GA, Jersey #8, High School Baseball: St. Pius X High School, Atlanta, GA, Jersey #42 – Freshman year, Spring 2020, Varsity – Mount Vernon School, Atlanta, GA, Class of 2023. Multiple Sports Athlete – Baseball, Football & Golf.
Carson Tice has played varsity level baseball at two highly competitive programs in Georgia: St. Pius X HS Atlanta, GA. – his freshman year which was the Covid shortened season of 2020 & now at the Mt Vernon School also in Atlanta. He changed schools prior to his sophomore year for an academic schedule at the Mt. Vernon School where he is currently a junior and looks forward to a strong showing with many innings pitched for the varsity. Carson is ranked 93rd of all right-handed pitchers in the state of Georgia by Perfect Game and is on their High Follow list.
Carson shows great command of the strike zone and is a master of changing speeds and keeping hitters off balance. He fields his positions well, and bats for his high school team. His consistent work ethic has earned him the respect of both his coaches and teammates.
Off the diamond, Carson played freshman football for St. Pius and was a two-way player as he played tight end, defensive end and also special teams. He enjoys playing golf and has a natural swing. Academics are another strong suit for Carson; while taking many AP classes, he maintains a 3.3 GPA.
Travel Baseball
Carson Tice played for the Ninth Inning Royals travel team out of Chamblee, GA. (Contact: Coach Justin Edwards 912-308-7939 Justin@ninthinningbaseball.com). During the summer and fall of 2021, Carson had 3 wins on 0 losses with 40 innings pitched, finishing with a 0.20 ERA and a 1.56 WHIP. In the summer and fall of 2020 Carson had 2 wins with 1 loss in 39 innings and a 0.00 ERA and a 1.05 WHIP.
Travel Baseball 2022 GA Bombers Victus Coach Rich Gaines 404-798-1611 Rich.gaines@gmail.com
Coaches Comments:
Connor Kaden – San Francisco Giants RHP
Wake Forest University Alumni
I've had the pleasure of working alongside Carson Tice through his baseball journey since he was 14. Carson is the type of young man that people gravitate towards. When he's on the field he is in control. I am personally envious of his ability to be the most calm, cool, and collected individual on the field at all times. It's that presence that grabs the attention of his teammates. He has the ability to be a tremendous leader in this world as a baseball player, and as a human being. Carson has the physical ability to be a great baseball player no doubt, however, baseball is believed to be 90% mental – this is his advantage. It has been a huge goal for him over the years to learn to control what he can control on the baseball field. Not many amateur athletes have the cognitive thinking skills to even process what that means, however, Carson practices that approach every single day.
Tice shows up with the biggest smile on his face ready to take on the day, and yet he leaves the gym with that same big smile covered in sweat, red in the face and hungry for more. That is the type of young man I want to represent.
Eric Alexander (678) 462-5633
E-mail: eric@pinnacleathleticsatl.com
Owner/Coach Pinnacle Athletics Atlanta
We have had the pleasure of working with Carson Tice for the past 4 months. Carson has worked tremendously hard and diligently. He takes direction very well and catches onto things very quickly. With his work ethic, desire, and attitude he will be a huge asset to his team and anyone else he comes in contact with.
Skills Show Video Pitching – Perfect Game
If you are unable to view the video below click here

Academics
GPA 3.3, Class of 2023
SAT: pending ACT: pending
AP World History
AP US History
Honors/Awards/Achievements
Varsity Baseball – 9,10,11
Multi Sports Athlete
Numerous AP Classes 3.3 GPA
Community Service:
Serving meals for Agape Way
Contact Information:
Prospect
Carson Tice (678) 231-1949
E-mail: carsontice13@gmail.com
Twitter: @tice_carson
Parents:
Christina and Billy Tice
(770) 598-0309 & (404) 358-6353
E-mail: christinatice@yahoo.com
E-mail: billy_tice@yahoo.com
Travel Baseball Coach Fall 2021
Ninth Inning Royals
Justin Edwards (912) 308-7939
E-mail: Justin@ninthinningbaseball.com
Travel Baseball Coach Summer 2022
Georgia Bombers Victus 17u
Rich Gaines (404) 798-1611
E-mail: Rich.gaines@gmail.com
Strength and Conditioning Coach
Director of Conditioning, Pinnacle Athletics
Eric Alexander
(678) 462-5633
E-mail: eric@pinnacleathleticsatl.com
Mt. Vernon HS Coach
Jeremy Beckham (678) 978-3905
E-mail: jbeckham@mountvernonschool.org