Jayson Longacre, 6′ 3″ 180 lbs RHP/INF/OF 3 Year Varsity – Baseball & Basketball, (All Region Selection) Westminster School Atlanta, GA. 3.7 GPA, AP Classes, Honor Roll, Graduation Candidate for the Class of 2021. 6-4-3 DP Athletics Baseball – 8 Year participant, most recent team 17U Cougars Jersey #19, Coach Danny Pralgo 404-513-6350 danny.pralgo@643dpathletics.com.
Jayson Longacre, is a Senior at The Westminster Schools in Atlanta, GA. was one of three sophomores to make the Varsity Baseball team. As a Junior, he was a starting pitcher and played infield. The team had an 8-0 start (Westminster was ranked #1 in 3-A in the state of Georgia and Jayson was their top starting pitcher) until the season was cancelled due to COVID. Jayson also made the Varsity Basketball team as a sophomore. He started numerous games that year, was a starter and team leader as a junior, and made the All Region Team.
Jayson Longacre joined 643 Baseball Academy at 10U and has made a team for the past 8 years. He most recently played on the 17U Cougars playing for the founder, Danny Pralgo. He just earned a spot on the 18U 643 Cougars playing for TJ Pagan 215-840-6150 tpags15@gmail.com. This past summer, Jayson was mostly a relief pitcher and was brought into the game in tense situations. His fastball averages in the mid 80's topping off at 86 mph. At the end of the season, he started a game and threw a perfect game into the bottom of the 7th with two outs, when he gave up one hit. He was named the MV Pitcher for the 18U Southeast Elite Championship tournament.

Jayson Longacre is a good student (3.7 GPA Honors) and challenges himself by taking tough classes at a challenging school (Westminster is the #1 ranked academic high school in the State of GA and consistently is in the top 50 nationally among all high schools in the U.S. ). In his free time, he coaches a church league basketball team and does one-on-one training sessions to help kids develop their basketball skills.
Perfect Game, Scouting Notes from 18U Southeast Elite Championship
Jayson Longacre (2021, Atlanta, Ga.) carried a perfect game into the final inning of his start before it was spoiled by a hard-hit ball that found its way through the hole on the left side of the 6-4-3 DP Cougars 17u infield with just one out remaining. Unfazed, Longacre was able to collect himself and punch out the following batter for his eighth strikeout of the game, closing out a seven-inning shutout. Named the tournament's Most Valuable Pitcher, the 6-3, 175 pound righthander was in attack mode from the start with his low 80's fastball. The heater had quality arm side run and sink that generated plenty of groundballs, pop-ups, and weak contact, as only two batted balls made their way out of the infield for outfield fly outs. Longacre releases his pitches with some effort and solid extension from a three-quarters angle, and his reach down the mound allows the velocity on his fastball to sneak up on hitters.

Coaches Comments:
Westminster Head Baseball Coach
Chad Laney 404-367-7984
E-mail: chadlaney@westminster.net
Jayson Longacre is an elite athlete who contributes to a championship-caliber baseball team in a myriad of ways. He is truly a frontline starter with his fluid, repeatable release and 6' 3″ long, lean frame. Jayson also brings high-level middle infield skills to his defense profile. In fact,
Jayson grew up as a SS/2B, which he stills plays flawlessly, but with his recent physical growth he has developed a body that translates all over the diamond, including 3B, 1B, and OF, so his versatility is a huge asset, especially when you consider he brings "point guard" skills to all of the positions he plays.

It must also be noted that Jayson, a three-year starter on his varsity basketball team, can dunk a basketball with ease, so again his athleticism cannot be understated. Offensively, Jayson is a patient, cerebral hitter who attacks the baseball with full-extension being a trademark. He hits for both average and power, and he brings plus speed, agility, and awareness to the base paths. He also has an IQ, both baseball and real-world, that will surely be among your team's highest.
6-4-3 Coach's Comments:
Jayson Longacre is a 6'3" 180 lb RHP out of Westminster High School. Jayson will sit in the mid 80s with plenty more to come. He is in a very long and protectable frame with much room for growth in the next few years. Jayson has a very long and loose arm, with great family genes to follow. He has the potential to be a 90 mph arm in the next 1-2 years. Jayson has a plus-plus changeup that he can throw for strikes as well as an out-pitch. The confidence he has with his changeup is very impressive, and he can go to it in any counts to any hitters. He throws his curveball effectively and can throw it for strikes. Jayson was the Most Valuable Pitcher in the last PG event of the summer tossing 6 2/3 perfect innings. Jayson Longacre will be a great addition to any college staff.
Game Footage Pitching 9.25.20
If you are unable to view the video below click here


Pitching Bull Pen Video @ 643 DP Baseball – Posted With Permission
If you are unable to view the video below click here


Personal Statistics
Height 6′ 3″ Weight 180 lbs.
Bats R Throws R
Positions: RHP/INF/OF
Perfect Game Profile Click Here
Academics
Current GPA – 3.7
ACT (scheduled October)
AP English Lang, AP English Lit
AP Spanish AP Statistics
AP Environmental Science
Honors Pre-Calc/Trig
Honors Biology
Hip Hop Club, Student Ambassador
Honors/Awards/Achievements
Varsity Baseball – 10, 11, 12
Varsity Basketball – 10, 11, 12
All-Region Basketball Team 2020
16U 643 Tigers Pitcher of the Year
18U PG SE Elite Championship, MV Pitcher
Honor Roll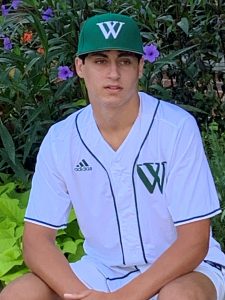 Contact Information
Prospect
Jayson Longacre 404-550-0773
jaysonlongacre@westminster.net

Parents:
Keith and Monisha Longacre
Cell: 404-808-5099
monishaklongacre@gmail.com
Travel Baseball Contacts:
643 Founder/President
Danny Pralgo, 404-513-6350
E-mail: danny.pralgo@643dpathletics.com

643 Coach
TJ Pagan 215-840-6150
E-mail: tpags15@gmail.com
643 Coach
Jamaal Hawkins 770-231-1839
E-mail: jamaal.hawkins@643dpathletics.com


Westminster Head Baseball Coach
Chad Laney 404-367-7984
E-mail: chadlaney@westminster.net