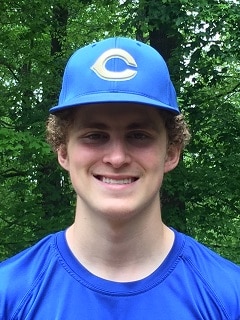 Isaac Harkins 5′ 8″ 145 lbs. Versatile 3 Year Varsity Player, C/RHP/2B/OF, Gold Glove & Multiple All Tournament Team Selections, 3.2 GPA, Class of 2021, Chamblee Charter HS, Chamblee, GA. Bats R Throws R, 60 yd 6.95, Pop Time 2.08, HS Jersey #2, 2020 season started at Catcher & 2B. He plays competitive travel baseball on the Canes Southeast Team, Jersey # 20, Coached by Josh Shailer: E-mail: josh.shailer@yahoo.com, 678-654-3522.
Isaac Harkins is a hard working gamer who is driven to succeed and will do whatever he can to help his team win. Isaac's talents include the ability to compete at a high level and is skilled at multiple positions. During his junior year in high school ball Isaac started behind the plate and at 2B. As a 3 Year Varsity baseball player Isaac has the desire, determination, and the work ethic to succeed . A coaches dream is putting it mildly; Isaac is a skilled athlete at multiple position, works hard all the time, and does his best at whatever is asked of him.
Coaches Comments:
Travel Baseball – Canes Southeast
Coach Josh Shailer
Isaac Harkins is one of the most hard working baseball savvy kids on the field at all times. Anything you ask him to do he does it without question. You could tell him to play a position he'd never played before and he'd just say yes sir and go out there and no doubt succeed. Isaac's one of those players that plays hard and fast at all times and would run through a brick wall for you. I have had the pleasure of coaching him for the past three years and I have enjoyed every second of it.
Josh Shailer, Summer Coach Canes Southeast
E-mail: josh.shailer@yahoo.com Cell: 678-654-3522
Highlight Video Summer 2020 – AB's Def SS/3B/RF Pitching
If you are unable to view the video below click here

Personal Statistics
Height 5′ 8″ Weight 145 lbs
Bats R Throws R
Positions: C/2B/OF/P
Pop Time 2.08 60 yard dash 6.95
FB 78 mph, Curve 68 mph, Change 72 mph
High School – Chamblee Charter
Academics
3.2 GPA SAT TBD ACT TBD
Desired College Major: Sports Management
Honors Achievements Activities
2019 Bulldog Award- Chamblee Charter HS
2019 All Dekalb County Gold Glove Team
2019 March Dekalb County Player of the Month
2019 PG Upperclass Fall Classic All Tournament Team
2019 PG 16u Summer Shootout All Tournament Team
2019 PG 16u Firecracker Finale All Tournament Team
2019 PG 16u Battle of the South All Tournament Team
2019 16u North Atlanta Open II All Tournament Team
2019 WWBA Southeast Qualifier #2 All Tournament Team
2019 PG 16u Southeast Memorial Day Classic All Tournament Team
2018 PG Super 25 15u Georgia Super Qualifier
2020 Southeast Canes Summer Schedule
PG 17U Southeast Elite Championship – June 1-5 Marietta GA
WWBA 17U National Championship Qualifier – SE – June 22-27 Marietta GA
17U BCS National Championship – July 9-14 Fort Myers FL
WWBA 2021 Grads 17U National Championship – July 17-24 Marietta GA
Contact Information
Prospect:
Isaac Harkins 770-500-4217
E-mail: harkinsisaac@gmail.com
HS Chamblee Charter – Bulldog
Varsity Baseball Head Coach
Brian Ely 404-502-2274
E-mail: brian_ely@dekalbschoolsga.org
Summer Travel Baseball
Canes Southeast
Coach Josh Shailer 678-654-3522
E-mail: josh.shailer@yahoo.com