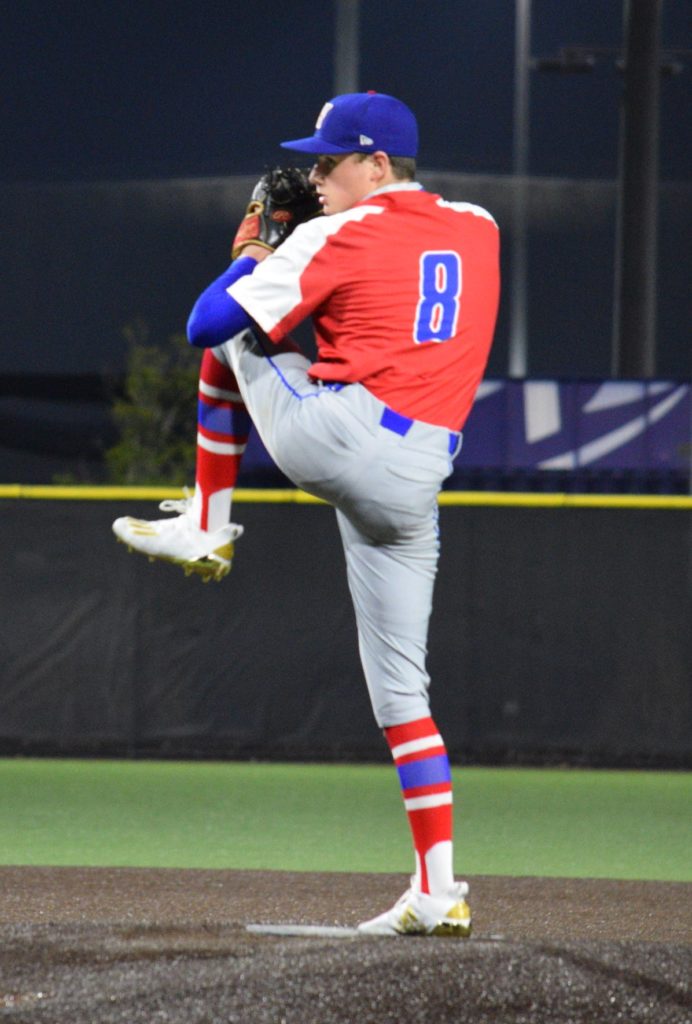 Brick Conway 5′ 11″ 175 lbs. MIF/RHP, 5 x Varsity Letterman Dual Sport Athlete- Baseball & Cross Country, Strong Academic Student – AP and Honors Classes, Dual Enrollment – Walton HS & Chattahoochee Tech, 1330 SAT, Class of 2022, Walton HS Varsity Baseball – versatile multiple positions player (SS/2B/3B/RHP) & 6-4-3 DP Athletics Elite Travel Baseball.

Congratulations Brick on your recent signing to continue your baseball career at the collegiate level at South Georgia State College. Your hard work and dedication, both on and off the field, has paid dividends… continued success!!

Brick Conway is a multi facetted baseball player who competes as a MIF and pitches for both his high school and travel programs. A dedicated, hard working athlete who has five varsity letters to his credit going into his senior year. Off the diamond, Brick also has lettered in cross-country several times before dedicating himself only to baseball for the 2021-2022 seasons and beyond.
Brick Conway, as a baseball player, is a fierce, aggressive, competitor. He is a high I.Q. player evidenced by his base running acumen and his defensive ability to throw out advancing runners on relays. He can drive the ball gap to gap.
Brick's pitching arsenal includes a fastball, curve, slider and change-up. He delivers all his pitchers from 3/4 and sidearm positions, resulting in many awkward swings. He generally has many short innings because he lives low in the strike zone.

Brick Conway is a consistent and versatile fielder. He has played every infield position except catcher since spring 2020; settling in the MIF over the last 12 months.

2021 Season Notes:
Walton starting IF at 2B, SS and 3B, relief pitcher. Got the win for Walton vs. North Paulding (eventual state runner-up) with a shutout eighth inning; against a nationally ranked top five team Calvary Christian. Brick went 1-3 with an RBI and a shutout inning in a 3-1 loss. .317 BA.

Coaches Comments:

6-4-3 DP Athletics Coach/Instructor Jamaal Hawkins
678-354-3199 (C): 770-231-1839
jamaal.hawkins@643dpathletics.com
Brick Conway is a very versatile baseball player. On the mound, he can pitch from all arm slots with 4 pitches that he can throw for strikes in any count. I've seen him throw complete game shutouts against top level competition, his fastball has been up to 83. He is also very clutch, he's comfortable coming into a bases loaded jam and getting his team out of it. He does a very good job forcing weak contact.
As a position player, Brick can play anywhere in the infield as well as corner outfield. He mostly plays SS and 3b, very sure handed makes all of the routine plays. High baseball IQ. His swing is really clean, does a really good job of getting his barrel flat in the zone early allowing him to consistently hit line drives.

Overall, Brick is a very good baseball player and can help a baseball team in a lot of ways. He is also a good teammate and good student.


Head Varsity Baseball Coach Shane Amos
Walton High School
Physical Education Dept. Chair
770-634-6222
E-mail: shane.amos@cobbk12.org
Brick is multiple position player. He is primary Short stop but also plays a good second base. Brick has good range and good arm strength. On the mound, Brick can throw out of multiple arm slots that is very difficult to pick up as a hitter. Offensively, Brick handles the bat well. He makes hard contact and processes gap power. He has good speed.
Perfect Game Tournament Comments:
Main Event Showcase Marietta, GA. June 22, 2021
Brick Conway (2022 RHP, Walton HS, Marietta, GA) Brick showcased a repertoire of a fastball in the high of 80 mph, and a curveball at 68-mph with good shape and depth. Brick possesses a good pitching ability and varied his release point from a three-quarter slot to side-arm to create different looks and add to his effectiveness on the mound.

Conway stayed on the attacked and filled the zone throughout his start. Brick would scatter two hits over three innings of work and punch-out three strikeouts, filling the zone over 60% of the time. Conway turned in a multi-hit day at the plate and displays good hitting ability in the box. He displayed a short swing with a feel for the barrel to make hard hit contact to the gaps. Brick Conway has a good approach in the box with great hand-eye coordination as well.
June 23, 2021
Brick Conway (Marietta, GA) smoked a ball to deep center in his first at bat and he one hopped the wall while speeding around the base for a stand up triple. Conway stands at the plate with an even stance and uses a short stride to drive the ball with great power on contact.

Personal Statistics

Height 5′ 11″ Weight 175 lbs.
Bats R Throw R
Positions: MIF/RHP
Dual Sports 5 x Varsity Letterman
Baseball & Cross Country
Bench Press: 230 lbs. Squats: 360 lbs.

Academics
2.75 GPA SAT 1330 ACT TBD
AP & Honors Classes
Dual Enrollment –
Walton HS & Chattahoochee Tech
Advance Algebra
Graduation Candidate Class of 2022

2021 Video 3 min 20 secs Game AB's Def SS/3B 2021 Seasons HS & Travel Ball
If you are unable to view the video below click here

<
2021 Video Pitching 3/4 Slot Side ARM
If you are unable to view the video below click here

Honors Achievements Activities
1330 SAT High Honors AP Classes
Dual Enrollment Walton HS Chattahoochee Tech
5 x Varsity Letterman 2 Sport Athlete
Baseball:
2018 6-4-3 14U Jaguars
MVP Perfect Game – 7.0 IP, 2 H, 0R, 64 pitches
2019 Walton Starting JV SS .356 BA
2020 Walton HS Pitcher – 2nd in appearances, .913 ERA
6-4-3 16U Tigers Coaches Award
Cross Country:
2018 Walton Rookie of the Year –
State Championship -Team finished 3rd.
2019 Walton State Champs – Brick finished 27th
2020 State Championship – Walton finished 7th
2020 Most Valuable Runner – Team 7th in 7-A

Contact Information

Prospect:
Brick Conway 404-775-7915
E-mail: brickconway15@gmail.com
Instagram: @brick_conway

Parents:
Sean & Catherine Conway
404-936-9104
E-mail: conwayatlga@gmail.com
E-mail: Katy.conway@rgp.com
Walton HS Varsity Baseball
Coach Shane Amos 770-634-6222
E-mail: shane.amos@cobbk12.org

Travel Baseball 6-4-3 DP Athletics
Coach Parker Madden 404-803-4751
E-mail: Pmadden28@gmail.com

Travel Baseball 6-4-3 DP Athletics
Owner – Coach Danny Pralgo 404-513-6350
E-mail: Danny.Pralgo@643dpathletics.com