Braxton Bullard MIF, 5′ 8″ 155 lbs. Bats L Throws R, 6.8 sec 60 yd dash, Harrison HS Kennesaw GA. Signs at the University of West Alabama. Congrats Braxton best of luck as you continue on your journey "competing at the next level! " High Academic Achiever – 4.4 GPA, Dual Enrollment – University of West GA. Numerous AP Classes, National Honor Society, National Society of High School Scholars, National Academy of Future Physicians, Class of 2021, 6-4-3 Double Play 17U Jaguars, Coach Brett.Beasley@643dpathletics.com, 912-481-1871.
Braxton Bullard has a love for baseball and has competed at a very high level for a long time, beginning in the early years at the Oregon Park Program, Cobb County, GA. graduating on to the well known East Cobb Baseball Program, where he played for several teams; and now as a starter – standout player at the 6-4-3 Double Play 17U Jaguars Team.

Coaches Comments:
6-4-3 DP 16U Cougars Coach Ryan Sterling writes:
Braxton Bullard is a very smart baseball player who is also a defensive game changer. He is a SS primarily who can also play 2B, covers a ton of ground, always knows where he has to be and has a very efficient catch and release. Braxton saves his pitchers runs and outs every day. At the plate, Braxton hits left handed, knows his role and the game situation. He is a plus runner and base runner, so getting on the bag is his goal. He uses the field well and is developing his swing to be more compact. Braxton loves the game and will find his way onto the field wherever he ends up playing at the next level.

Braxton Bullard Highlight Video Summer 2020 AB's Def SS/2B
If you are unable to view the video below click here
Personal Statistics
Height 5′ 8″ Weight 155 lbs
Bats L Throws R
60 yd 6.8 seconds
Positions SS/2B

Academics
Current GPA 4.4
SAT 600 Math Verbal 550 (Retake)
ACT TBD (August 2020)
AP Psychology, AP Human Geography
AP Chemistry, AP US History
AP Government (Sr. year)
AP Economics (Sr. year)
Dual Enrollment University of West GA (Sr. year)
DE English 1101, DE English 1102
DE Pre Calculus, DE Statistics
Desired Major in College: Business/Pre Law
SCHOOL ACTIVITIES AND HONORS
Varsity Baseball Team 11
JV Baseball Team 9, 10
Gifted Program 1st-5th Grades
HS Math, Science, & Spanish 8th 4.0 Achieved
Harrison HS English Dept. Student of the Month 9th
Beta Club 10, 11, National Honor Society Applicant 10, 11
National Society of HS Scholars Invitation 10
National Student Leadership Conference: Emory invitation 10
James Madison Univ National Youth Leadership Invitation 10
Recommended for Governor's Honors Program 10
Wake Forest Summer Enrichment Medical Program Invitation 11
National Academy of Future physicians 11
Harrison HS Student of the Day 11


BASEBALL TEAMS AND HONORS
Dizzy Dean All Tournament Team
East Cobb, Titans & Next Level Baseball Programs
6-4-3 DP Athletics Baseball 16U Cougars 2018-2019
Earned Coaches Award-Ryan Sterling
2019 All-Tournament Team 18U PG East Cobb Invitational
6-4-3 DP Athletics Baseball 17U Jaguars 2019-2020
2019 All-Tournament Team PG Underclass Fall Season Opener
2019 All-Tournament Team PG Upperclass – WWBA Champions –
Fall Battle of the South Team
VOLUNTEER ACTIVITIES
Multiple volunteer games – Horizon League/ Special Needs Baseball Organization, Assisted with the Next Level Youth Baseball Camp Burnt Hickory Baptist Church.
Contact Information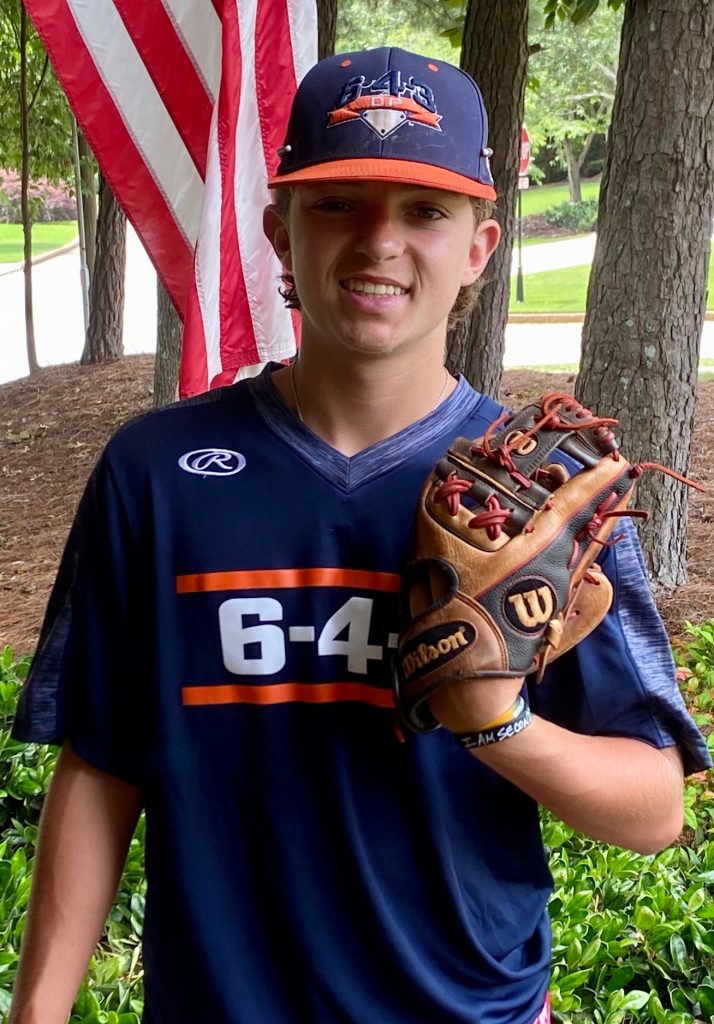 Prospect
Braxton Bullard 678-206-7610
E-mail:bullard.braxton@gmail.com
Instagram: braxton.bullard
Twitter: @BraxtonBullard1
Parents
Brock & Heather Bullard
Heather 770-314-7310
E-mail:heatherbullard@comcast.net
Brock 770-262-3866
E-mail:brockbullard@comcast.net
Harrison HS Head Coach –
Mark Elkins Cell:770-241-4948
E-mail: mark.elkins@cobbk12.org
HS Assistant Coach-
Jason Evans: Jason1.Evans@cobbk12.org
Summer Travel Baseball
6-4-3 DP Baseball 17U Jaguars
Coach-Brett Beasley Cell: 912-481-1871
E-mail: brett.beasley@643dpathletics.com
Strength/Agility: RAPID Sports Performance
Andrew Gordon Cell: 404-644-1855
E-mail: Andrew.Gordon@go-rapid.com