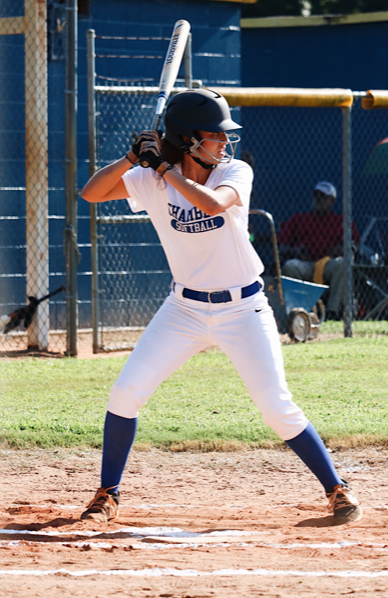 Ansley Mepham 5′ 8″ 135 lbs. 4 Year Varsity Starting Catcher, Golden Glover, 2019 All Star Team Selection, Bats R Throws R, 28 Games, .425 BA, 3 HR, 37 H, 33 RBI, .666 SLG%, .452 OB%, 1.119 OPS, 3.3 GPA Chamblee Charter HS, Chamblee, GA. Graduation Candidate Class of 2020.

Ansley Mepham has been an instrumental part of her team's success helping the Lady Bulldogs to their first place finishes, (State of GA Region 5-AAAAA Champs for the 2017 & 2018 Seasons) the last two years. Offensively, a team leader for the 2019 season, she batted .425 with 3 Home Runs and on the defensive side behind the plate has committed only one error.
Her leadership skills both on and off the field along with her competitive nature, have made her a force to be reckoned with. Her hard work and dedication are second to none; in 2017 she was the team's Golden Glove Award recipient and for the 2018 season she received the Iron Bulldog Award.

Academically, Ansley is a hard worker and a high achiever carrying a 3.3 GPA while taking numerous AP Classes; AP World History, AP US History, AP Human Geography, AP Physics, AP Computer Science, AP Psychology, AP Language & Composition, and AP Macroeconomics.

Coaches Comments:
Chamblee Charter HS Softball –
Head Coach Alan Loper 404-216-1585

Ansley Mepham is a member of the Senior Class of 2020 and has played Varsity Softball at Chamblee Charter High School for the past four seasons. She has worked very hard to improve her softball skills, and her dedication and determination have paid many dividends as she has become a strong hitter and excellent receiver behind the plate. She's also a very talented outfielder and has great range running down fly balls. She has nine stolen bases this year.

We just completed our 2019 regular season of 25 games, and Ansley is second on the team in hitting with a .434 batting average. She also has hit three home runs, eight doubles, and has 31 RBI. Her slugging percentage is .684. Defensively, she is very solid behind the plate and blocks pitches in the dirt better than any other catcher I have seen at Chamblee. Last season, due to a major injury to our other catcher, Ansley was called upon to catch every inning of every game, a feat that I have never seen before and most likely will never see again. Her energy, effort, and enthusiasm behind the plate is outstanding.

Ansley is a total team player who encourages her teammates to perform at their highest level. She has a calm demeanor and never loses her composure. She is highly respected by her coaches and teammates and will be a valuable asset to her collegiate community. The Chamblee Charter High School Softball Program has been very fortunate to have Ansley these past four seasons. She has been a huge part of our success which includes winning the 5-AAAAA Region Championship the last two seasons.

2019 Season Highlight Video – AB's & Catching 4 minutes
If you are unable to view the video below click here
Personal Statistics
5' 8″ 135 lbs.
Catcher/Outfield
Bats R Throws R
HS Jersey # 11
2019 Statistics – 28 Games
.425 BA, 3 HR, 33 RBI, 37 H,
93 PA, 87 AB, 21 R, 10 2B, 1 3B,
9 SB, .666 SLG%, .452 OB%,
1.119 OPS
Academics
GPA: 3.3, 8 AP Classes
SAT: Pending
Graduation: Class of 2020
Desired College Major: TBD
Honors/ Achievements/ Activities
All Star Team Selection 2019
4 Year Varsity Softball
Region 5 AAAAA 1st place 2017
Region 5 AAAAA 1st place 2018
Golden Glove Award 2017
Iron Bulldog Award 2018
AP World History, US History
AP Human Geography, Physics
AP Computer Science, Psychology
AP Language & Composition
AP Macroeconomics
Contact Information
Prospect
Ansley Mepham 404-376-0777
Email: ansleymepham@gmail.com
Twitter: @ansleymepham
Instagram: @ansleymepham

Parents
Meg & James Mepham
Meg: 404-771-8070
E-mail:meg@mephams.com
James: 404-290-1332
E-mail: james@mephams.com

Chamblee Charter HS
3688 Chamblee Dunwoody Rd
Chamblee, GA 30341

Chamblee Bulldogs Softball
Head Coach Alan Loper 404-216-1585
E-mail: groundballouts@gmail.com

Darlington School Head Varsity Coach
Former Travel Softball Coach
Anna Swafford 404-797-8772
E-mail: Swafffstar25@gmail.com