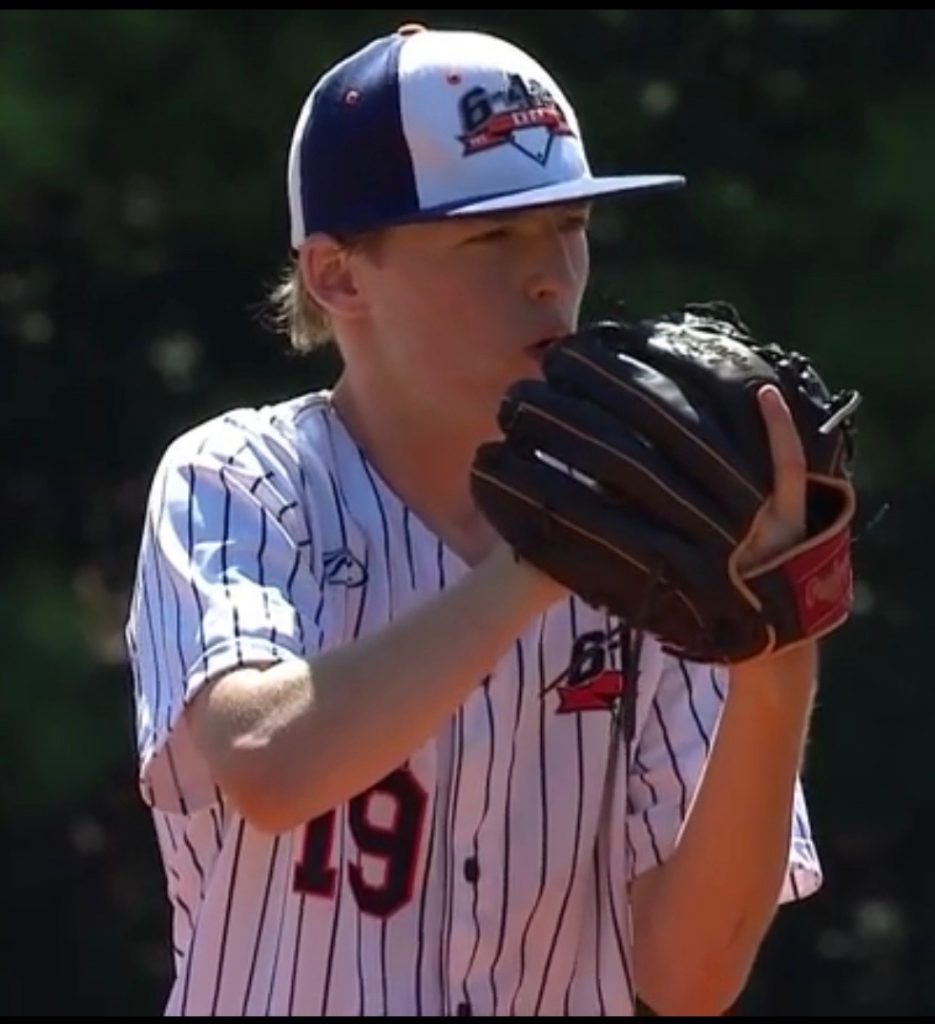 Wyatt Strahl 6′ 150 lbs RHP/3B/2B, Bats L/R Throws R, Multiple Sport Athlete (Baseball & Basketball), 3.0 GPA Graduation Candidate Class of 2021. East Cobb Colt 45's 18U –
Head Coach Bo Curtis 404-234-6665
E-mail: bocurtis@gmail.com
Wyatt Strahl is a highly competitive individual who backs his competitiveness up with his athletic skills as a pitcher, an infielder (2B/SS/3B) and an accomplished switch hitter. Don't misinterpret his quiet laid back demeanor; once he hits the field it's all business and he's in it to win it!!
Coaches Comments
Jamaal Hawkins 643 DP:
Wyatt Strahl is a very clean baseball player that competes at everything he does. Wyatt has a very clean arm action that shows really well in the infield as well as on the mound. As a pitcher, he has next level command of all 3 pitches. He can also throw inside very effectively when needed. As a position player, Wyatt is a switch hitting infielder with pop from the left side. As he gets bigger and stronger, he will have the opportunity to play at a high level as a pitcher or position player.
Personal Statistics:
Height 6′ Weight 150 lbs
Positions: 3B/RHP/2B
Bats L/R Throws R
643 DP Jaguars 17U Jersey # 30
Fall 2020 East Cobb Colt 45's 18U
Academics
3.0 GPA Graduation Candidate 2021
ACT TBD SAT TBD
Highlight Video Summer 2020 AB's Pitching Def 3B
If you are unable to view the video below click here
Summer 2020 Game Footage Pitching
If you are unable to view the video below click here
Honors Awards Achievements
2018- High School Varsity Team All-State/All-Region Selection
2018- High School Varsity Silver Slugger Award
2018- High School Varsity State Runner Up
2018- US Club Nationals / All Tournament Team Award
2018-643 DP Cougars Team of the Year Award
643 DP 2 time recipient of Pitcher of the Year Award
2018 High School Varsity Baseball Team BA .420. Pitcher 9-1
2018 643 DP Travel Baseball- Hit .339 was named to All Tourney 5 times.
2018 Triple Crown US Club Nationals. Pitched championship game: CG 2 hit shut-out. Game was streamed live on ESPN 3.
2019 643 DP Travel Baseball
2020 ECB Astros/White – Spring High School
Command of all 3 pitches (fastball, change-up & curve)
Contact Information
Prospect
Wyatt Strahl 813-235-8433
Email: Wyatt.strahl@gmail.com
Parents
Craig & Erica Strahl 770-743-5019
Email: cdstrahl@yahoo.com
Coaches Information
Jamaal Hawkins 770-231-1839
Email: Jamaal.Hawkins@643dpathletics.com
Asst AD Cherokee Christian H.S.
Alex Teate 678-616-7148
Email: Alex.teate@cherokeechristian.org
East Cobb Baseball Colt 45's 18U
Head Coach
Bo Curtis 404-234-6665
Email: bocurtis@gmail.com
Asst Dennis Yancey 678-618-4552
Email: de000364@gmail.com