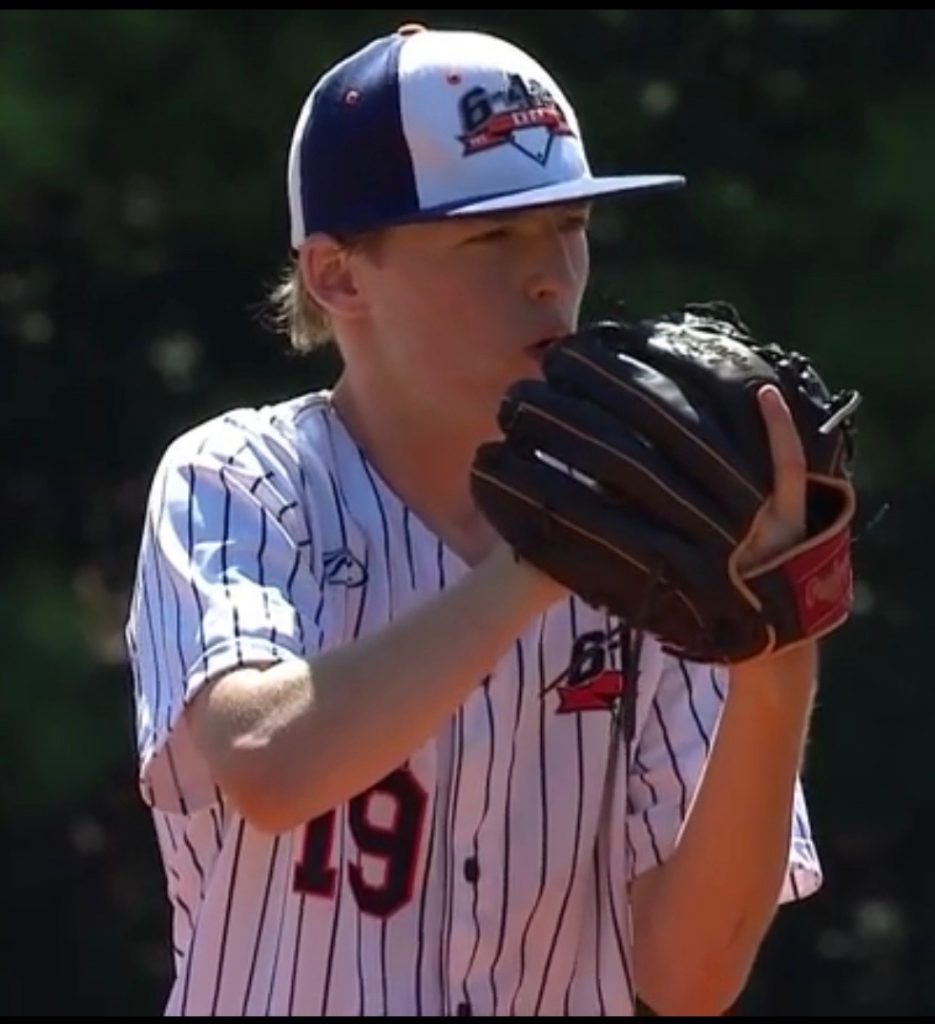 Wyatt Strahl 6′ 150 lbs RHP/3B/2B, Bats L/R Throws R 643 DP Jaguars Jersey # 30, Multiple Sport Athlete, 3.0 GPA Graduation Candidate Class of 2021.
Wyatt Strahl is a highly competitive individual who backs his competitiveness up with his athletic skills as a pitcher, an infielder (2B/SS/3B) and an accomplished switch hitter. Don't misinterpret his quiet laid back demeanor; once he hits the field it's all business and he's in it to win it!!
Coaches Comments
Jamaal Hawkins 643 DP:
Wyatt Strahl is a very clean baseball player that competes at everything he does. Wyatt has a very clean arm action that shows really well in the infield as well as on the mound. As a pitcher, he has next level command of all 3 pitches. He can also throw inside very effectively when needed. As a position player, Wyatt is a switch hitting infielder with pop from the left side. As he gets bigger and stronger, he will have the opportunity to play at a high level as a pitcher or position player.
Personal Statistics:
Height 6′ Weight 150 lbs
Positions: 3B/RHP/2B
Bats L/R Throws R
643 DP Jaguars 17u Jersey # 30
Academics
3.0 GPA Graduation Candidate 2021
ACT TBD SAT TBD
Highlights:
2018 High School Varsity Baseball Team BA .420. Pitcher 9-1
2018 643 DP Travel Baseball- Hit .339 –
Selected All Tournament Team 5 x
2018 Triple Crown US Club Nationals –
Pitched championship game: CG 2 hit shut-out
2019 643 DP Travel Baseball
2020 ECB Astros/White – Spring High School
Command of 3 pitches (fastball, change-up & curve) with
a velocity of mid to upper 80s
2020 WWBA 18U National Championship –
All Tournament Team Selection
Awards:
2018- HS Varsity Team All-State/All-Region Selection
2018- HS Varsity Silver Slugger Award
2018- HS Varsity State Runner Up
2018- US Club Nationals / All Tournament Team Award
2018-643 DP Cougars Team of the Year Award
643 DP 2 time recipient – Pitcher of the Year Award
Perfect Game Awards:
WWBA National Championship 2020 18U-
All Tournament Team 643 DP Jaguars 17U
WWBA Champion 643 DP Jaguars 2019 –
PG Upperclass Fall Battle of the South
All Tournament Team 643 DP Tigers 2019 16U –
Southeast Memorial Day Classic
All Tournament Team 643 DP Tigers 2019 16U –
Perfect Game East Cobb Invite
All Tournament Team 643 DP Tigers 2019 16U –
North Atlanta Open II
All Tournament Team ECB Academy Navy –
2020 PG High School Showdown
All Tournament Team 643 DP Cougars 2018 14U –
PG One Day Showdown #1
All Tournament Team 643 DP Cougars 2018 WWBA 14U –
Memorial Day/Lakepoint
All Tournament Team 643 DP Cougars 2018 15U –
Perfect Game East Cobb Invite
All Tournament Team 643 DP Cougars 2018 WWBA 14U –
National Championship
All Tournament Team 643 DP Cougars 2018 WWBA 15U –
National Championship
Youth Tournament Champ 643 DP Cougars 2018 PG 14U –
Spring Kick Off
Youth Tournament Champ 643 DP Cougars 2018 PG 14U –
One Day Showdown
BCS Champion 643 DP Cougars 2017 13U –
Perfect Game Showdown
All Tournament Team 643 DP Cougars 2017 14U –
Perfect Game-East Cobb Invite
All Tournament Team 643 DP Cougars 2017 13U –
Perfect Game-East Cobb Invite
All Tournament Team 643 DP Cougars 2017 13U –
Perfect Game Summer Showdown
All Tournament Team 643 DP Tigers 2016 –
Perfect Game One Day Showdown
All Tournament Team 643 DP Cougars 2015 –
Perfect Game Spring Southeastern Champions
All Tournament Team 643 DP Cougars 2015 –
Southeast Super Qualifier
Youth Tournament Team 643 DP Cougars 2015 _
Perfect Game Southeastern Showdown
Basketball:
2018-High School JV MVP Award
2019-High School JV All Tournament Team
Contact Information:
Prospect
Wyatt Strahl 813-235-8433
Email: Wyatt.strahl@gmail.com
Parent:
Craig Strahl 770-743-5019
Email: cdstrahl@yahoo.com
Travel Baseball 643 DP Athletics
Coach Brett Beasley 912-481-1871
Email: Brett.Beasley@643dpathletics.com,