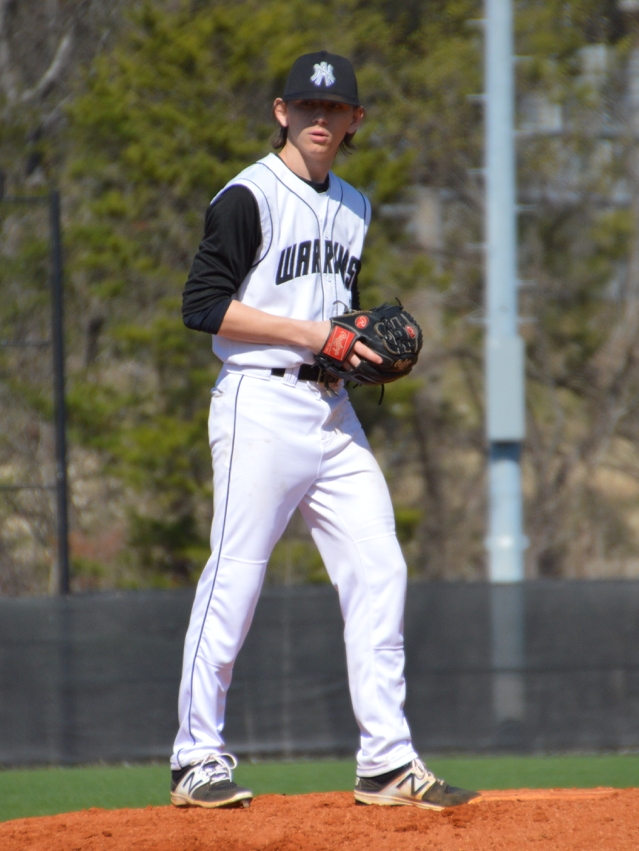 Foster Olson 6′ 1″ 170 lbs. LHP, Starter/Reliever BATS L, Primary Position Pitcher, International Baccalaureate Diploma Candidate Class of 2018, Scholar Athlete – North Atlanta HS, Atlanta, GA. Travel Baseball – East Cobb Dodgers 18U & 17U. Summer 2017 Stats 18U: 10 IP, 17 K's, 3 BB, ERA .700, WHIP 1.000. 17U: 26 IP, 13 GP, 4 GS, 28 K's, ERA 3.231.
National Qualifiers All Tournament Team Foster Olson -Perfect Game 6.21.17- All Tournament Team Selection – LHP
Foster Olson is coming in to his own on the baseball diamond where he is a starter and reliever on his high school team as well as the elite and well known program at East Cobb Baseball in Marietta, GA. He competes on the East Cobb Dodgers for the last two years and is a team top performer; a student of the game who's potential has a high ceiling. He's just now starting to tap into that potential. He's a 6'1″ lefty that is extremely crafty in his pitch selection and has the aptitude to make adjustments quickly.
Academically Foster is a high achiever carrying a 3.7 GPA, has taken numerous advanced IB classes, will be an International Baccalaureate Diploma Candidate for the Class of 2018 and his desired college major is Math & Engineering.
Link of Interest:
National Qualifiers All Tournament Team Foster Olson
Game Footage Summer 2017 Pitching East Cobb Dodgers
If you are unable to view the video below click here
Game Footage Video 2017 HS Season click here

Personal Statistics
Height 6'1" Weight 170 lbs.
Throws L, Bats L
North Atlanta HS Jersey #11
East Cobb Dodgers Jersey #39
Academics
GPA: 3.7 (90 – 100 pt scale) Class of 2018
International Baccalaureate Diploma – Candidate
SAT: 1150 ACT: TBD
Desired Major in College: Engineering/Math
IB English Literature

IB Mandarin Chinese
IB Math, IB Physics
IB History of the Americas
IB Theory of Knowledge
IB Psychology, IB Economics
IB Business
Honors Achievements Activities
National Qualifiers All Tournament Team
International Baccalaureate K-12
Varsity Baseball Team 11, 12
Recipient of 2016 Warrior Award MVP
Recipient of 2015 Coaches Award
Community Service – Volunteer Activities
Peachtree Rd United Methodist Church -Mission Trip Nicaragua 10, 11
Peachtree Rd United Methodist Church – Mission Trip to Ashville, NC 7, 8, 9
Volunteer – Superior Sports for Ned Mason (youth baseball coaching) 10, 11
Travel Baseball
East Cobb Dodgers 18U & 17U Summer 2017
East Cobb Dodgers 16U Summer 2016
Buckhead Braves 15U Summer 2015
Contact Information
Prospect
Foster Olson (404) 984-5657
FosterOlson3@gmail.com
Twitter: @fosterohh
Parents:

Eric & Heidi Olson
(404) 217-5919 (404) 326-0487
eolson490@gmail.com
HeidiOlsongmi@gmail.com
North Atlanta HS
4111 Northside Parkway
Atlanta, GA 30327
Varsity Baseball Head Coach
Stephen Muoio (585) 943-7032
stephen.muoio@gmail.com
East Cobb Dodgers Travel Baseball
Coach Rick Elder
Coach Bo Curtis
bocurtis08@gmail.com
Coach George White (770) 309-8994
mpcoachgeorge@hotmail.com