Wesley Diamantis – 6′ 2″ 215 lbs, 1B/OF, DOB 10.6.99, St. Pius X Catholic HS Atlanta, GA BATS LEFT THROWS LEFT, 3 Year Varsity player Class of 2018; 2017 Preseason All American, 2016 – 9 x Perfect Game All Tournament Team Selection. 9th Inning Royals 17U #35 Summer Travel Ball. Has committed to continue his baseball career at the next level -signed with Birmingham Southern College -Best of luck Wesley, keep swinging for the fences!
Last season, as a junior, Wesley was the starting first baseman at St. Pius X HS where his athleticism and consistency are second to none; he bats in the three hole. Wes displays balance at plate, strong footwork and is extremely consistent in delivering quality AB's. He is a humble, selfless, tireless worker who is dedicated both on and off field.
2017 HS Season Stats
Offense: .325 BA, 28 GP, 93 PA, 83 AB, 27 H, 2 HR, 10 2B, 1 3B, 18 RBI, 14 1B,
.387 OB%, .542 SLG%, .929 OPS.
Defense: 153 TC, 2 Assists, 149 PO, 2 E, 8 DP, .987 FLD%
Wesley Diamantis competes at the highest travel ball level and is a top performer offensively and defensively for the elite Ninth Inning Royals program based out of Chamblee, GA. In 2016, Wesley participated in a number of Perfect Tournament throughout the southeast; currently is rated 9.0 by the PG Organization and has made the Perfect Game All Tournament Teams an unprecedented 9 times in the same season. His work ethic and dedication are second to none evidenced by his performances at these events. He continues to grow, is working harder and will settle for nothing less than the best in his quest to "Compete at the next level".
Coaches Comments:
Perfect Game Grades
Best PG Grade 9 June 2017
National Top Prospect
"Wesley Diamantis -Large, athletic frame with long limbs and a strong, mature build with present strength proportioned throughout. Primary first baseman, fields the ball out front and hands play at the ball, shows a short and quick arm action through the backside, tall target to throw to across diamond, solid arm strength and carry at present, shows accuracy out of hand when on top of the ball. Left-handed hitter, begins with an open and tall stance in the box with a high hand set and back elbow. Does a nice job of incorporating lower half into swing and creates torque, shows quickness to hands with a line drive swing plane. Shows leverage to path with sound present bat speed, looks to pull the ball and can do so with authority and backspin, shows carry off the barrel and stays through the ball well with loud contact to the pull side. Good student."
Baseball Factory – 2017 Preseason All American
"Wesley Diamantis – a LHH first baseman who looks to be a run producer at the next level. He stands in the box confidently and has rhythm to his approach and stroke. His hanging stride lets him stalk the pitch and his LH stroke is smooth, efficient and on-time. He finds the barrel with regularity and has gap power with flashes of pull HR power. He is a mature hitter who is willing to use the entire field. At 1B Wesley shows sure hands, good feet and body control. He's comfortable around the bag and provides a good, reliable target for his infielders. Overall, this is a polished LH bat that can handle good pitching."
Link of Interest:
9 x Perfect Game All Tournament Teams & Evaluation
Wesley Diamantis 2017 Season Stats

2017 Game Footage AB's & Defense 1B – 3 min 14 secs
If you are unable to view the video below click here
Personal Statistics
6′ 2″ 215 lbs 1B/OF
BATS L THROWS L

3 Year Varsity St. Pius X
Ninth Inning Royals Baseball
Academics
3.0 GPA Class of 2018
ACT Pending SAT 1070
Honors Achievements Activities
2016 WWBA Underclass World Championship
Oct 06, 2016 – Oct 10, 2016
All Tournament Team
2016 WWBA National Qualifier
Perfect Game Park LakePoint
Sep 30, 2016 – Oct 02, 2016
All Tournament Team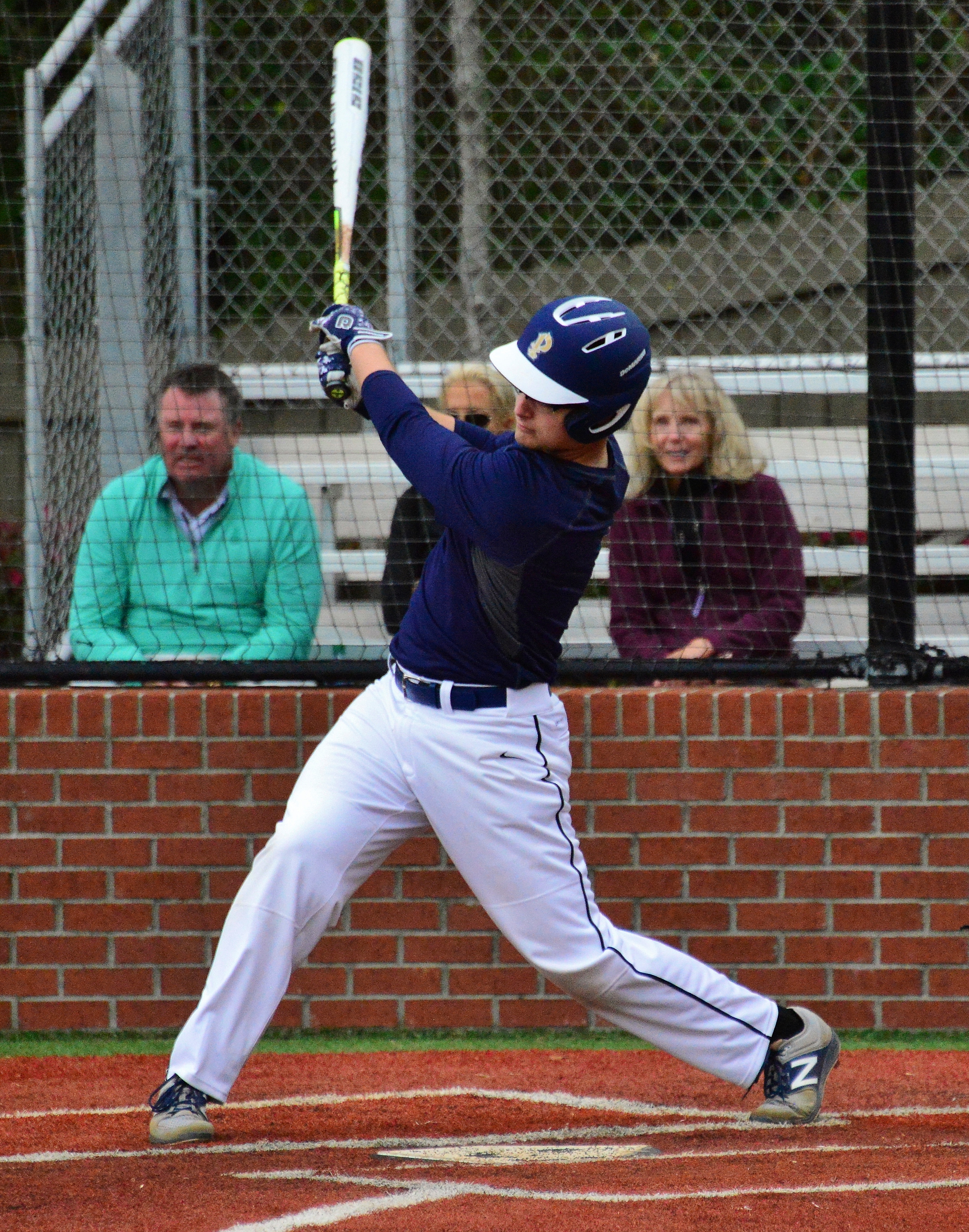 Rawlings Top Prospect Showcase
2016 SE Underclass Showcase
Aug 27, 2016 – Aug 28, 2016
All Tournament Team
2016 16U PG Evoshield Classic
Jul 26, 2016 – Jul 30, 2016
East Cobb Complex –
All Tournament Team
2016 17U PG Evoshield Classic
Jul 22, 2016 – Jul 26, 2016
Perfect Game Park LakePoint
All Tournament Team
2016 WWBA National Championship Qualifier
Jun 10, 2016 – Jun 15, 2016
All Tournament Team
2016 17U East Cobb Invitational

Jun 06, 2016 – Jun 10, 2016
Perfect Game Park LakePoint All Tournament Team
2016 16U East Cobb Invitational
Jun 02, 2016 – Jun 06, 2016
Perfect Game Park LakePoint
All Tournament Team
2016 16U WWBA Memorial Day
May 27, 2016 – May 30, 2016
Perfect Game Park LakePoint
All Tournament Team
Contact Information
Prospect:
Wesley Diamantis 404-735-1616
E-mail: diamantis.wesley7@gmail.com
Twitter: @wdiamantis
Parents:

George & Carol Diamantis
George 404-550-8244
E-mail: Gdiamantis11@gmail.com
St. Pius X Varsity Head Coach
Chad Garrison 770-209-3030
E-mail: Cgarrison@spx.org
Ninth Inning Royals Coach
Justin Edwards 912-308-7939
E-mail:
Justin@ninthinningroyals.com
Hitting Coach
Blaine Smith 404-444-8221
E-mail:
Blaine@ninthinningroyals.com
Training Coach
Anthony Daisy 706-761-0029
EBE-Exercise Bioenergetics
E-mail:
Clientservices@exercisebioenergetics.com