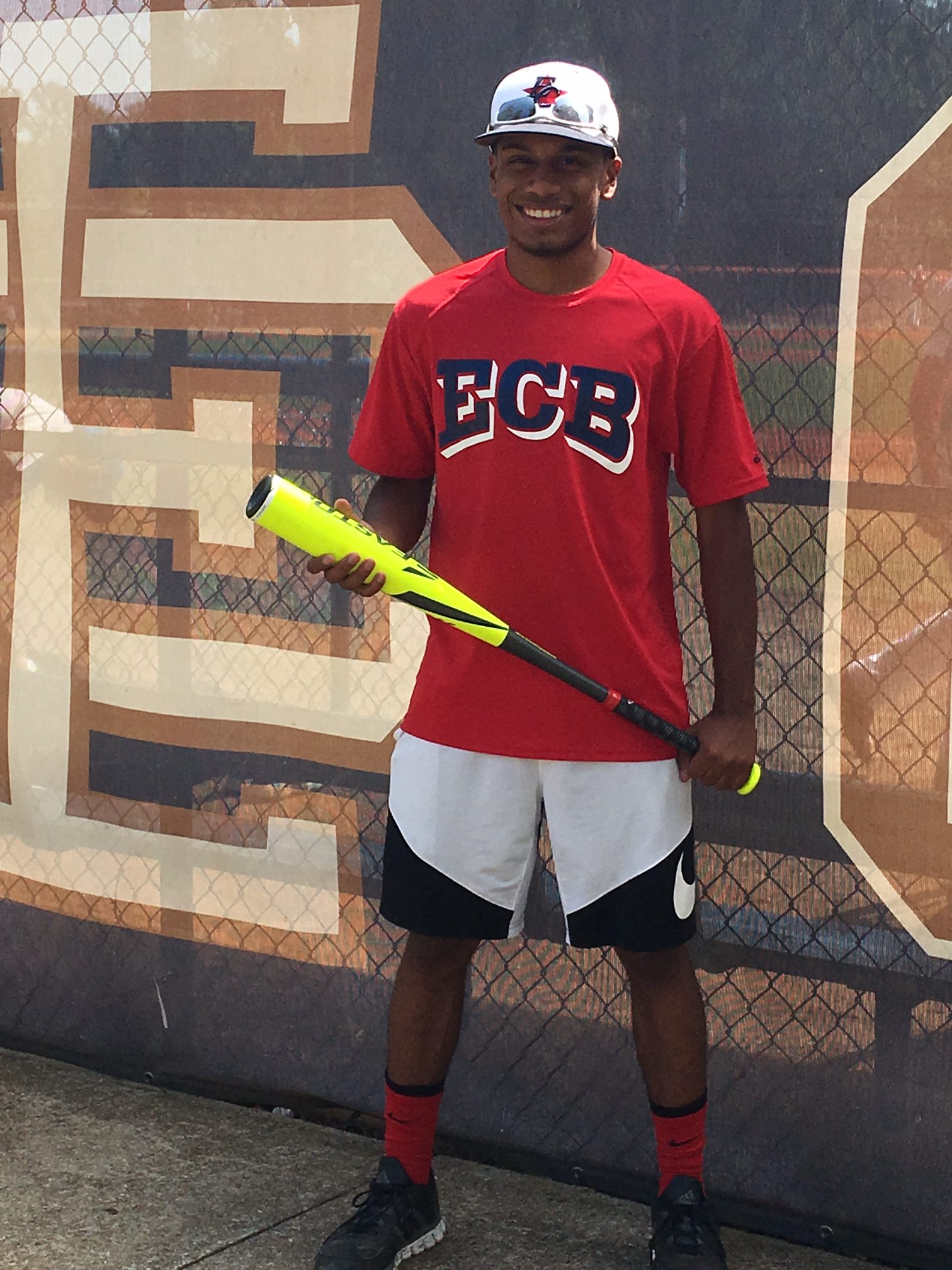 Alex Pollard RHP/OF 5' 9" 143 lbs Bats: R Throws: R, 6.78 sec 60 yd dash, Collins Hill High School, Suwanee, GA GPA: 3.30, Class of 2018. East Cobb Patriots Baseball Team Coach Jim Lovejoy (cell: 770-633-1243 email: ecpats011@aol.com)
2017 Summer Showdown 17U –
Perfect Game All Tournament Team.
Alex Pollard hits leadoff 75% of the time with a great on base percentage and is a leader in stolen bases and runs scored. Alex plays any position in the outfield. He has the glove, the footwork, the anticipation, the read and closing speed to make the play and throws lazor beam darts to home plate. Georgia Dugout Club said, "Alex Pollard is a solid baseball player."
On the mound Alex has command of 4 pitches, fastball, slider, change up and the curve. He has been a starter and a closer since an early age. Alex has gained the respect of his teammates and coaches because of his 100% every play effort, his work ethic, and by the way he carries himself off the field.
Alex Pollard is a quiet leader who leads by example; is a hardworking team player and a very coachable athlete. He has all the tools to play at the next level and has shown it in every game with his speed, bat and glove.
Coaches Comments:
Head Coach: Charles Daughtry Cell: 770-337-7002
E-mail: daught_c@bellsouth.net, Collins Hill Eagles
"My name is Charles Daughtry and I have coached for 45 years, Alex Pollard is one of the most dedicated players I have ever coached. His commitment to school and baseball is surpassed by no other! Alex's potential is still ahead of him, he is one of the fastest, quickest players in Gwinnett County. Any college would be better if Alex was part of your school"
Head Coach: Sam Spota E-mail: sspota@comcast.net, Team Georgia Prospects
"A few things I want to say about Alex. He has very quick hands at the plate.
He knows how to battle and work the count in the leadoff position. Alex has a great first step in the outfield, and above average speed. "He's a hard worker and very coachable."
Head Coach: Mark Cohen Cell: 404-906-6800
E-mail: mscohen@cohenonline.net Collins Hill Eagles 16U/17U
"I have been coaching for 18 years, in 2016 I had the pleasure of coaching Alex Pollard. He definitely fits into the more serious and talented category. His basic skill set is sound, in fact I would strongly urge him to find professional guidance with regard to his pitching as I see a very strong potential in that position for him. At the plate, he was a strong line-drive type hitter and hit extremely well for us, even able to go the opposite field on those outside pitches. As for personality, Alex's drive and determination is mature, solid and never ending. He is a great teammate and always encourages his peers. Alex was quick to assist in drills with the younger team and you will not find a more determined player than Alex. He is coachable as they come, doing everything he can to make adjustments when asked. I would jump at the chance to coach him again"
Head Coach: Jim Lovejoy Cell: 770-633-1243
E-mail: ecpats011@aol.com East Cobb Patriots 17U/18U
"If you are looking for an outfielder who can run, then you need to see Alex Pollard"
Game Footage Video Offense Defense & Pitching
If you are unable to view the video below click here

Personal Statistics
5′ 9″ 143 lbs RHP/OF

BATS R Throws R
6.78 sec 60 yard
Academics:
3.3 GPA Class of 2018
SAT 1190 560 Reading 630 Math
ACT TBD
Desired College Major:
Sports/Business /Finance
Honors Achievements Activities
2017 Summer Showdown 17U –
Perfect Game All Tournament Team
6.8 sec -60 yd dash "Best Time" –
East Cobb Academic Showcase – June 2017
East Cobb Academic Showcase 2016
East Cobb Invitational "Runner Up"
Perfect Game Tournament "Runner Up"
Perfect Game Tournament 3rd Place
Game Changer Wood Bat Tournament –
"Winner" MVP

North Georgia Regional Wood Bat –
Runner up "Best Defensive Player"
WWBA East Cobb Tournament-
"Runner up"
Mill Creek Spring Region "Winner" –
Best Offensive/Defensive Player
Collins Hill Spring Region –
"Runner Up" "Team MVP"
WWBA Wood Bat South Region -"Winner"
GGBL Season "Runner up" "Honorable Mention"
Community Service – Volunteer
Mentoring/Tutoring 9th grade math and science
Rec league hitting/fielding instructor 7th grade
Christmas tree sales charity fund (Collins hill)
Community can food drive
Toys for Tots
Contact Information
Prospect:
Alex Pollard 321-507-3949
E-mail: alexpollard27@gmail.com
Parents:
Abe & Athenee Pollard
Abe Cell: 321-917-7691
E-mail: Abe.Pollard@yahoo.com
Collins Hill HS
50 Taylor Road
Suwanee, GA 30024
East Cobb Patriots 17U
Coach/Manager Jim Lovejoy
Cell: 770-633-1243
E-mail: ecpats011@aol.com