Scouting Report – Graham Core 6′ 1″ 185 lbs. 1B/2B/3B, BATS R Throws R, 6.81 60 yd – College Baseball Prospect, 2017 Under Armour Pre Season All American Selection, 2 x Perfect Game All Tournament Team Selection Summer 2016, Briarwood Christian School Birmingham, AL. Class of 2017, East Cobb Patriots 17U Blue Team (#38) Contact: Coach/Manager Jim Lovejoy (770-633-1243 E-mail: ECPats011@aol.com).
Graham Core, as a big man, has the athleticism and game intellect to easily play the infield or outfield as needed by his coaches. He has soft hands, quick feet and a skill set conducive to any impact player, especially an infielder; in the outfield he has a keen eye and quick reflexes to set up on long balls hit his way. Graham Core's a team leader both on and off the field where he always carries a positive attitude and the desire to do what ever it takes to help his team succeed.
Graham Core competes at the highest level on the travel ball circuit where he is a starting member and player for the prestigious East Cobb Baseball Program out of Marietta, GA. The 17U Patriots, Coached and Managed by Jim Lovejoy pride themselves on being one of the Top Academic Travel Teams in the country where many of their players have gone on to top academic institutions across the country. Graham is carrying a 3.84 GPA, has scored a 1200 on the SAT Exam and a 27 on the ACT's; he has aspirations of competing at the next level as a super high achiever.
Links of Interest:
2016 Perfect Game SE Qualifier All Tournament Team
2016-Perfect-Game-Evoshield-Classic-G-Core-Stats
,500 BA, .545 OBP, .600 SLG, 1.145 OPS
2016-WWBA-National-Championship-Stats-G-Core
.333 BA, .500 OBP, .333 SLG, .833 OPS
Coaches Comments:
Graham is a lean, athletic, 1B/2B/3B who has a promising future on the diamond. Foot speed is above average as indicated by his 60 time of 6.81 (Rhodes College Showcase 10.22.16) . At the plate is where he shows best, displaying outstanding hitting / power potential through an athletic setup. Hands are quick and work through a level / aggressive swing path. He shows a feel for the barrel and works to stay inside the ball, flashing gap to gap pop. He has strength in his swing with the baseball exploding off the bat when centered. At 2B, defensive abilities are well above average, displaying smooth, fluid actions. He moves well laterally displaying range and shows a solid backhand. He shows off his athletic abilities on his feeds of the double play. Glove action is soft / sure as he presents well out front. Hands / feet work well together as he gets rid of the baseball quickly with accuracy on his throws. Graham has the makings of a special type player and will get looks from the collegiate coaches with his baseball abilities.
2016 Game Video Clips AB's & Defense 4:48 secs
If you are unable to view the video below click here

Personal Statistics
Height 6′ 1″ Weight 185 lbs.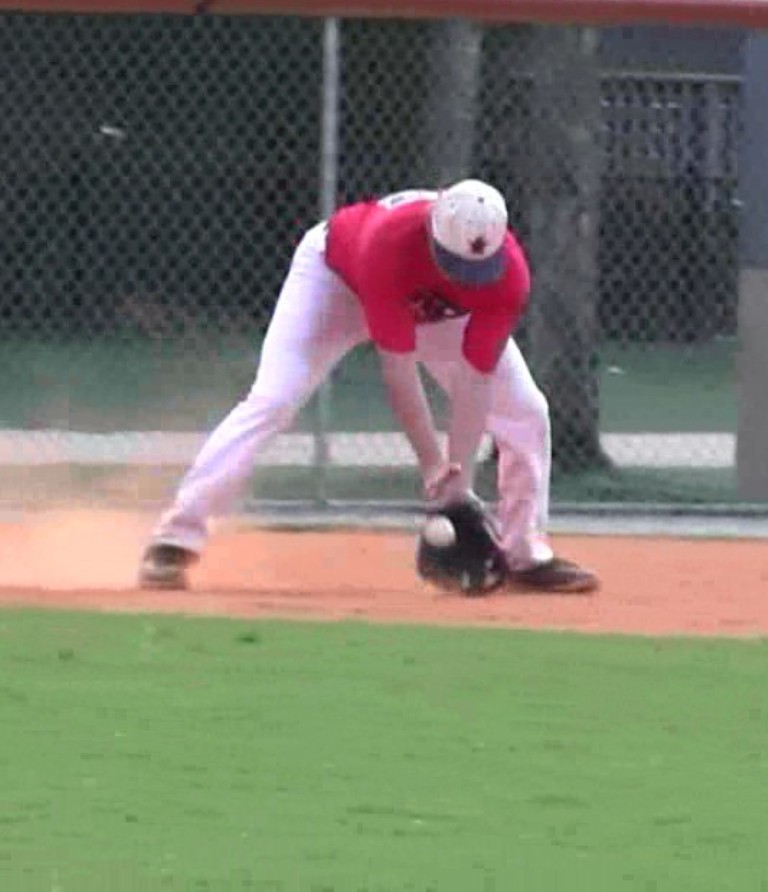 Bats R Throws R
HS Jersey #5 EC Patriots #38
Primary Position Infielder
Secondary OF
60 yard dash 6.81 seconds 10.22.16
4.4 seconds Home to 1st
Academics
GPA 3.84 SAT 1200 ACT 27
Numerous AP Classes
College Prep Diploma Class of 2017
Honors Achievements Activities
2017 Under Armour Pre Season All American Selection
2016 Baseball Factory Senior Fall Classic Phoenix, AZ
Sept. 2016 Perfect Game SE Qualifier All Tournament Team
2016 Perfect Game Evoshield Classic –
All Tournament Team Selection LakePoint:
.500 BA, .545 OBP, .600 SLG, 1.145 OPS
2016 Perfect Game GA Regional Tournament –
All Tournament Team Selection LakePoint
2016 WWBA National Championship 17U –
.333 BA, .500 OBP, .333 SLG, .893 OPS
2016 East Cobb Patriots High Academic Team –
Member Player – Starter 3B & OF
2015 Perfect Game Classic – Ft. Meyers, FL
All Tournament Team Selection
IMG Wood Bat League – Team Leader Award
2015-2014-2013 Team Mississippi Baseball
Student Council 11th Grade
National Honor Society – 12th Grade
Volunteer – Community Service
Medical Mission Trip Guatemala -2014
Contact Information
Prospect:
Graham Core 205-936-0366

E-mail: gcore123@yahoo.com
Twitter: @core_graham
Parents: Grady & Heidi Core
E-mail: gradycore@gmail.com,
E-mail: heidicore@gmail.com
High School
Briarwood Christian School
6255 Cahaba Valley Road
Birmingham, AL 35242
Elite Travel Baseball
East Cobb Patriots 17U 2016
Coach/Manager Jim Lovejoy
Cell:770-633-1243 E-mail: ECPats011@aol.com
Website: www.leaguelineup.com/eastcobbpatriots
Team Mississippi 16U/15U/14U
Coach Josh Buford 662-552-5628
Hitting Instructor
Coach Preston Peavy Cell: 404-954-2281
Peavy Baseball
E-mail: prestonpeavy@peavynet.com
Other References
Personal Coaches:
Jared Patterson – 205-531-5832
Diamond Club – Birmingham, AL
Ron Jackson – 480-620-2376
Other Varsity Coaches:
Matt Guirrier – 10 year MLB Veteran Pitcher
Wes Helm – 10 year MLB Veteran