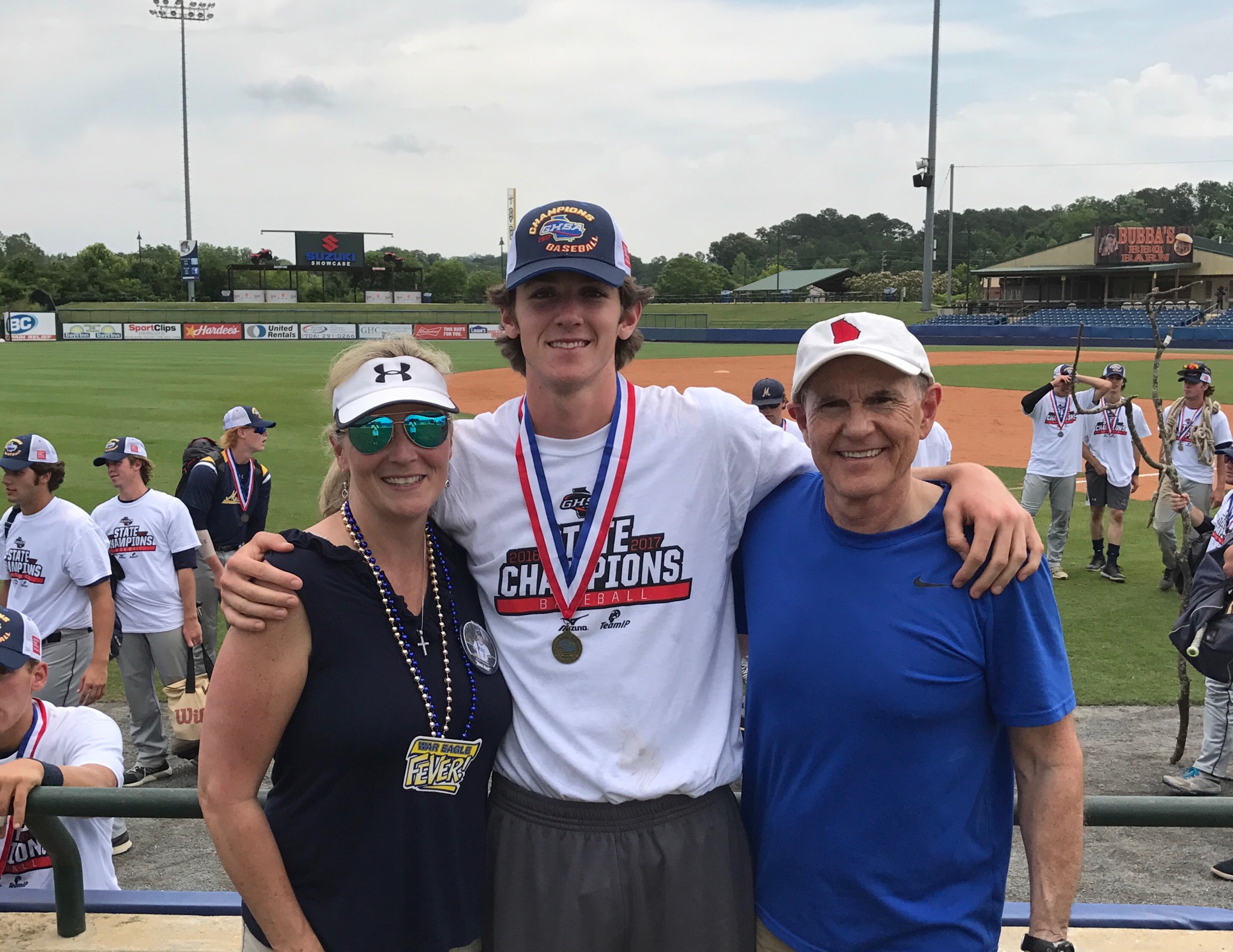 Scouting Report – Connor Stephens, 6′ 4″ 220 lbs. DOB 6-14-99, RHP/1B/3B, Bats R, Throws R, 3 Year Varsity – 2017 State of GA Champions, Marist School, Class of 2017, has accepted an offer to play college baseball at SMC in SC – a 7 x Perfect Game All Tournament Team Selection 2016 & 2015, 6-4-3 DP Cougars Sterling – Elite Travel Baseball, (Contact: Danny Pralgo 404-513-6350 dpralgo@bellsouth.net or Ryan Sterling cell (678)878-9052 E-mail sterlingbaseball7@gmail.com). Best of Luck Connor as you compete at the next level – signed University of NW Florida.
Coaches Comments:
Connor Stephens – Marist HS – 6-4-3 Cougars Sterling -Baseball Scoutz.com
Hitting: Open stance, very aggressive, has 1B power, very good extension, overall big power bat with great frame. Big guys take some time to develop but Stephens is on the right track to be a solid RHP/1B prospect.
Pitching: Tall kid with North-South delivery, Short arm action to 3/4 slot, Fastball 84 MPH, downhill plane used fastball well in game. Curveball short tilts over grips the ball a little. Change 74 MPH good fade.
6-4-3 DP Cougars Sterling
Connor Stephens is a very smart young man with a high level baseball frame. He is a RHP and a Corner INF.
On the mound, Connor throws a very heavy fastball with what seems to be little or no effort. He beats people with his fastball and wants to. He throws a very sharp breaking ball that he can throw in all counts. His CH is deceptive and will work better against better hitters.
At the plate, Connor Stephens creates a lot of backspin and has plus power. He competes in the box and is a threat to opposing teams. Defensively, he has very soft actions. His feet work well and he controls his body well. As Connor continues to mature, he will be a big time prospect.
Link of Interest:
7 x Perfect Game All Tournament Team Selection 2016/2015
Marist Stephens Shuts Down Blessed Trinity To Force Game Three
2016 BP & Pitching Video 2 min 28 seconds
If you are unable to view the video below click here

2016 Pitching Session Video Click here

Personal Statistics
Height 6′ 4″ Weight 220 lbs

Bats R Throws R RHP/1B/3B
HS Jersey #30 643 #5
3 Year Varsity (Including Senior Year)
Academics
2.9 GPA 26 ACT Class of 2017
Honors Achievements Activities
Marist HS Varsity Baseball -10th, 11th, 12th
2016 4 x Perfect Game All Tournament Team
2015 3 x Perfect Game All Tournament Team
2014 6-4-3 DP Jaguars – Pitcher of The Year
Contact Information
Prospect
Connor Stephens 770-696-8872
E-mail: stephensc@marist.com
Twitter: @jcs_5
Parents:
Bill & Shannon Stephens
Bill Cell: 404-660-5239
E-mail: bstephensga@gmail.com
Marist School

3790 Ashford Dunwoody Rd NE
Atlanta, Ga 30319
(770) 457-7201
Head Coach
Mike Strickland 770-891-2327
E-mail: stricklandm@marist.com
Marist Varsity Pitching Coach
Charlie Leibrandt Former MLB
Travel Baseball
6-4-3 DP Cougars
Danny Pralgo cell (404)513-6350
E-mail: dpralgo@bellsouth.net