Scouting Report – Trevor Palatine, RHP/SS, 6′ 180 lbs –
4 Year Varsity Baseball Player at
Holy Innocents Episcopal School (HIES). He has been a valuable member of the HIES Pitching Staff for his entire high school career, serving as a member of the starting pitching rotation since his sophomore season.
Trevor Palatine has full command of 4 pitches, which he uses to his advantage to keep hitters off balance. His ability to locate the strike zone early in counts, allows him to optimize his pitch count and pitch deep into games. His serious and relentless work ethic has earned him the respect of both his coaches and teammates. Trevor demonstrates the essential ability of being able to
"be coached/instructed", blending excellent listening and execution skills to maximize the instruction he receives. Away from baseball, Trevor enjoys playing golf, skiing and participating in church youth group activities.
The summer of his freshman year, Trevor played for the Ninth Inning Royals Travel Team out of Chamblee, GA. In the summer and fall of his sophomore and junior years, Trevor was a member of the Pinnacle Prospects Pitching Academy (Marietta, GA) where he trained with other talented high school and collegiate pitching prospects.
During the four fall seasons of his high school career, Trevor played in the Dunwoody Seniors Fall Baseball League (Dunwoody, GA). This league was primarily comprised of players from HIES, Woodward Academy (Atlanta, GA) and Riverwood (Sandy Springs, GA) High Schools. On his team, Trevor was the lead starting pitcher, while also starting at shortstop. In fall of the 2014 and 2015 seasons, Trevor posted 8-0 and 7-0 W-L records respectively as a starting pitcher; helping lead his team to back to back championships.
Academics serve as a foundational core for Trevor. He maintains a 3.84 GPA (un-weighted) at HIES while taking an academically rigorous course curriculum. At graduation, he will have completed nine 9 AP classes.
2016 Game Footage Video Pitching
If you are unable to view the video below click here

Personal Statistics
RHP 6' 0" 180 lbs
Throws: Right, Bats: Right
Jersey #33
Holy Innocents' Episcopal HS
Sandy Springs, GA
Academics:
GPA 3.84 Class of 2016
SAT: 1830 ACT: 27
AP Macroeconomics, AP Microeconomics
AP Environmental Sciences, AP Calculus
AP English Language, AP Physics
AP US History, AP World History
AP Biology, Multiple Honors Courses
Honors/Awards/Achievements
JV Pitcher of the Year – 8th Grade
John Philip Sousa Award – Band Accomplishment: 11th grade
National Honor Society: 10-12th grade –
Science, Spanish, and History
Community Service:
Dunwoody United Methodist Church –
Youth Group Volunteer (Stop Hunger Now)
Dunwoody Nature Center – Camp Counselor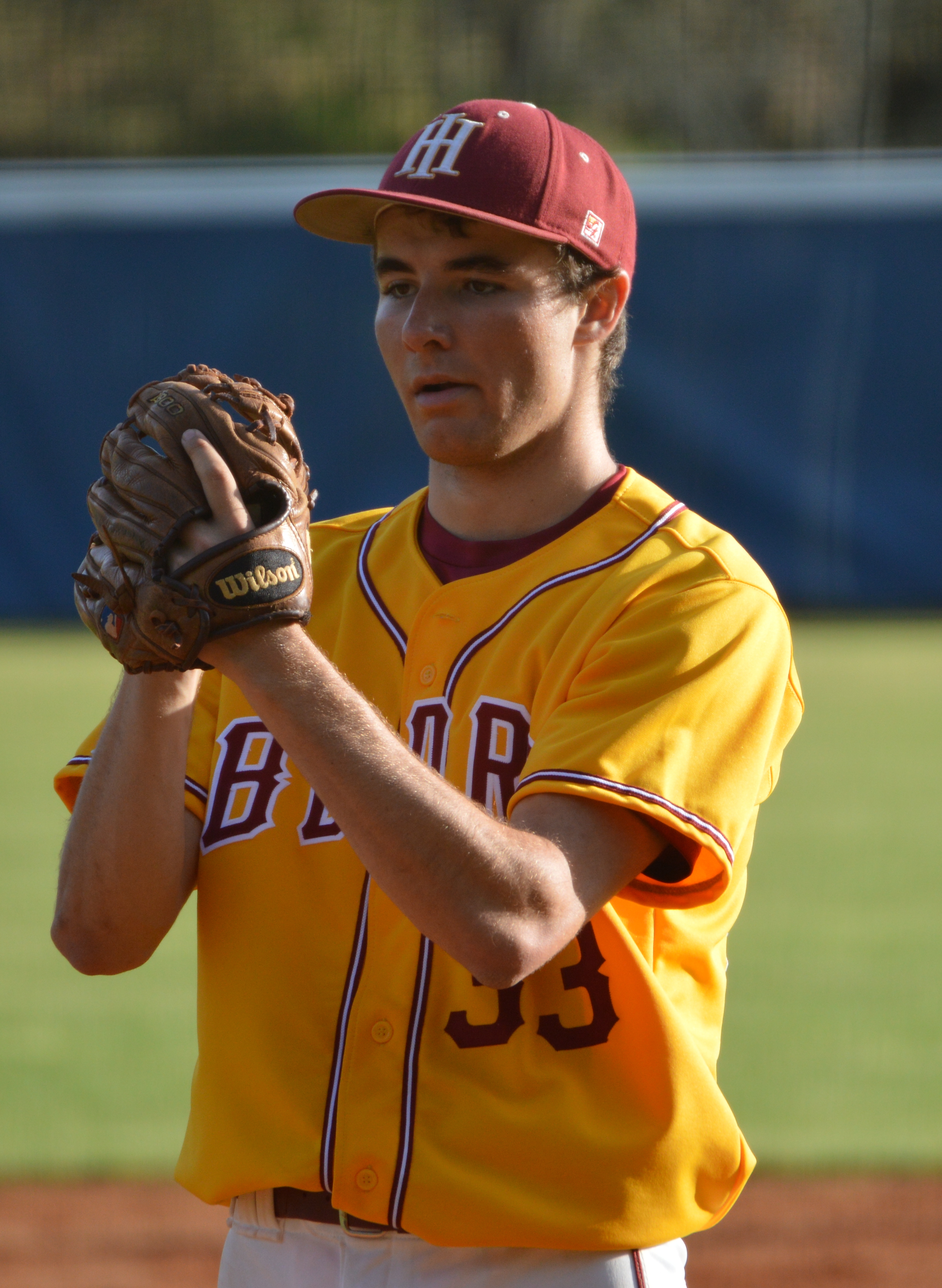 Contact Information:
Prospect:
Trevor Palatine (678) 938-6643
E-mail: baseball2391@gmail.com
Parents:
Rich and Robin Palatine
(678) 938-6642 (Rich)
(678) 938-6644 (Robin)
E-mail: rich.palatine@rtlasersafety.com
E-mail: rpalatine@comcast.net (Robin)
HIES HS Head Baseball Coach
DC Aiken (770) 596-6746
E-mail:dcaiken5@yahoo.com
Asst Coach Holy Innocents'
Bill Cefaratti 315-532-2483
E-mail: Bill.cefaratti@hies.org
Dunwoody Seniors Baseball League
Coach Andy Sadler (404) 512-2023
E-mail:Asadler7@gmail.com