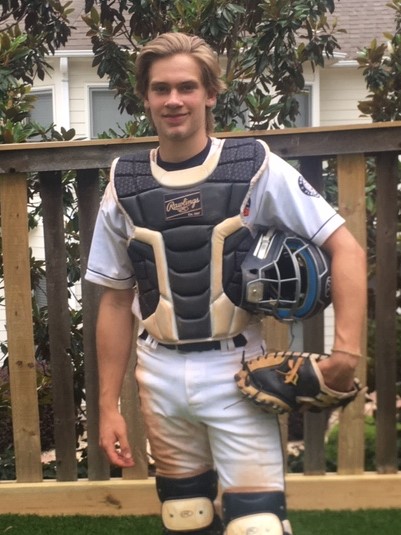 Josh Katz 5′ 11″ 150 lbs C/3B/MIF/OF Bats R Throws R, 3 Year Varsity Team Riverwood HS, Sandy Springs GA. 643 DP Cougars Jersey #9, Dual Sport Athlete, 2019 Defensive Player of The Year, UGA Certificate of Merit, Honor Roll Student, National Honor Society, GPA 99.8/100, Numerous AP Classes, Dual Enrollment Oglethorpe University, 29 ACT, Class of 2021, Community Service Volunteer, Riverwood Math Center Volunteer Tutor.
Josh Katz is a rising senior at Riverwood HS in Sandy Springs, and is a member of the 643 DP Cougars 17u Team coached by 643 DP founder, Danny Pralgo 404-513-6350, Danny.pralgo@643dpathletics.com.
Josh's versatility makes him a true utility player. For his travel team, he is a primary catcher, but also plays infield and outfield. In high school as a freshman, he was a starting catcher for Varsity. As a sophomore, he was a closing pitcher for Varsity. Junior year, he was a catcher and outfielder for Varsity.
Josh Katz hits comfortably throughout the order and excels at doing the job he is asked to do. He has outstanding bat control and plate discipline. He is a tough out and an excellent 2 strike hitter. At the plate, Josh has power to all fields, makes solid contact, catches a lot of barrels, bunts very well, and rarely strikes out. Because of his speed and baseball IQ, Josh is a consistent stealing threat on the bases.
Josh's plus arm and quick release allow him to routinely throw out opponents attempting to steal second and third base by a wide margin. Pop times to second base typically range from 1.97-2.02. His blocking skills behind the plate are an asset for his pitching staff giving pitchers the confidence to throw third strikes in the dirt. Quiet and unassuming characterize Josh's personality normally, but during game time he takes care of business and has the maturity and intelligence to call pitches during games.
Summer 2020 Live Game Video AB's Defense 3 min 29 sec
If you are unable to view the video below click here
Live Game Video 7.3.20 Catching 5 min 59 seconds click here
Personal Statistics:
Height 5'11" Weight 150 lbs
C/3B/MIF/OF
Bats R Throws R
643 DP Cougars 17U (Pralgo) – Marietta, GA Jersey #9
Riverwood International Charter HS – Sandy Springs, GA Jersey #9
Academics:
Current GPA 99.8/100 Class of 2021
ACT: 29 (English 32, Math 28, Reading 25, Science 29) (retake)
AP Government (9th), AP World History (10th)
AP Language (11th), AP Statistics (11th)
AP US History (11th)
IB Math SL Y1 (11th)
IB Spanish SL Y1 (11th)
Dual Enrollment Macroeconomics (Fall 2020 at Oglethorpe Univ.)
Dual Enrollment Ancient Literature (Fall 2020 at Oglethorpe Univ.)
Honors/ Awards/ Achievements:
Top 5% of Class
UGA Certificate of Merit
Principal's Honor Roll 9th
Principal's Honor Roll 10th
Principal's Honor Roll 11th
National Honor Society
3 Year Varsity Baseball
2019 Defensive Player of the Year
JV Baseball 9th Grade/10th Grade
Riverwood 9th Grade Basketball Team
SSUMC Basketball League 9th /10th /11th
Maccabi Games (Baseball) Summer 2017 (Bronze Medal) and 2019
Young Men's Service League Award for Most Philanthropies (10th Grade)
YMSL Service Award (11th Grade)
Community Service Volunteer Work
YMSL Volunteer 9th Grade (25+ hours)
YMSL Volunteer 10th Grade (25+ hours)
YMSL Volunteer 11th Grade (25+ hours)
Riverwood Math Center Tutor, August 2019 – present (6-7 hours per week)
Sandy Springs Mission Volunteer, March 2020 – present (1-2 hours per week)
Contact Information
Prospect
Josh Katz Cell: 404-234-2629
e-mail: joshkatz21@gmail.com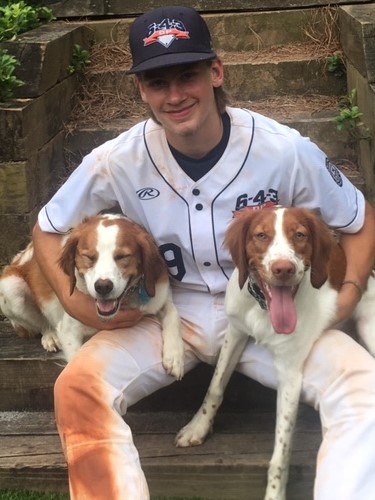 Parents:
Adam & Melinda Katz
Adam 404-822-5371
Melinda 404-964-8068
E-mail: adam@katzlitigation.com
E-mail: melkatz98@gmail.com
Travel Baseball (2019-2020)
Team: 643 DP Cougars 17u (Pralgo)
Head Coach: Danny Pralgo 404-513-6350
E-mail: Danny.pralgo@643dpathletics.com
Riverwood HS Head Coach
Douglas "Trey" Henson 706-255-5151
E-mail: hensondc@fultonschools.org
Strength and Conditioning Coaches
Neal Garner – The Refinery – 678-523-2737
Peter Graebeck – Riverwood HS – 516-318-5279