Dylan Kovitch, – RHP/OF, 6' 3", 215 lbs. 4 Year Varsity Baseball, 2016 Pitcher of The Year, 2016 Dekalb County, GA. All County Team, DOB 03/24/00, Dunwoody HS Class of 2018.
As the 2016 Pitcher of The Year Award recipient Dylan put up the following numbers: 4 Wins and 1 Loss, an ERA of 2.89, with 31 Strike Outs, 36.1 Innings Pitched, he played in 25 games, threw 1 No Hitter, and 2 Complete Games one of which was a shut out. Dylan pitched a complete game shut out against county rival Southwest Dekalb to put his team into the first round of the  2016 state playoffs.
Dylan Kovitch, a dual sport athlete, kicked off his freshman year in baseball as a varsity relief pitcher;  sophomore and junior year as a varsity starting pitcher. Also, as a sophomore he made the Varsity Football Team as a first string line-backer.
Dylan has a strong work ethic on and the off the field. He excels academically and maintains a 3.4 GPA. In his junior year he studied in Spain and participated in the Academy of Finance.
His community activities include: volunteering as a coach for a 9 year old basketball team, which served as a path to ramp up his first business,"Future Stars" a Winter youth basketball camp.  Dylan enjoyed hosting three annual USMC Toys For Tot events, working at food drives, Christmas Tree Lot Sales, and other local events. Dylan has also participated on a mission trip to Mexico. He has experience working for the Tom Bass Youth Baseball Camp and helps maintain the Murphey Candler Baseball fields. Dylan is also a member of: Fellowship of Christian Athletes, Young Life Perimeter and Inside Out at Northpoint Community Church.
Coaches Comments
6-4-3 Travel Ball Coach:
Dylan is a strong young man with a lot of potential.  As a RHP he is very strong and also gives you strong options in both corner outfield positions.
On the mound, Dylan has a powerful and electric fastball that he has confidence throwing on both sides of the plate. His frame and ability gives him a high ceiling on the mound. He has a lot of confidence in his off-speed and he can throw them in any count. His curve ball has late break and is very hard to pick up as a hitter. His change-up has good arm speed and works off his fastball well. In the outfield, Dylan has good speed and a plus arm.
At the plate, Dylan competes and is good situationally. Dylan is very projectable and as he continues to mature, he will be a great option to many programs at the next level.
2017 Game Footage Pitching Video
If you are unable to view the video below click here

2016 Skills Pitching Video – Live Game AB's click here
Personal Statistics
Height 6′ 3″  Weight 215 lbs.
Bats R Throws R – RHP/OF
Dunwoody HS Jersey #24,   6-4-3 Travel Ball #5
Dunwoody HS 4 Year Varsity Baseball
2016 Pitcher of The Year Class of 2018
Academics:                                                                                                  

3.4 GPA, Academy of Finance
Desired College Major: Undecided
Pitching Stats 2016 Season:
Record: 4-1, Era: 2.89, K's: 31, IP: 36.1
GP: 25 No Hitter: 1 Complete Games: 2
2017 Season Prior to Injury 5 IP, 4 H, 5 K's, 1 BB
Honors, Achievements, Activities:
4 Year Varsity Baseball Letterman
2 Year Varsity Football Letterman
2016 Pitcher of the Year Dunwoody H.S.
2016 Dekalb County – All County Team – Pitcher
Pitched 1 No Hitter, & a Complete Game Shut Out
Community & Volunteer Activities
9 Year Old Youth Basketball Coach
Hosted 3 Annual USMC Toys For Tots Events
Tom Bass Youth Baseball Camp Coach
Food Drive & Christmas Tree Lot Sales
Mission Trip to Mexico
Member: Fellowship of Christian Athletes
Young Life Perimeter
Inside Out North Point Community Church
Contact Information:
Prospect: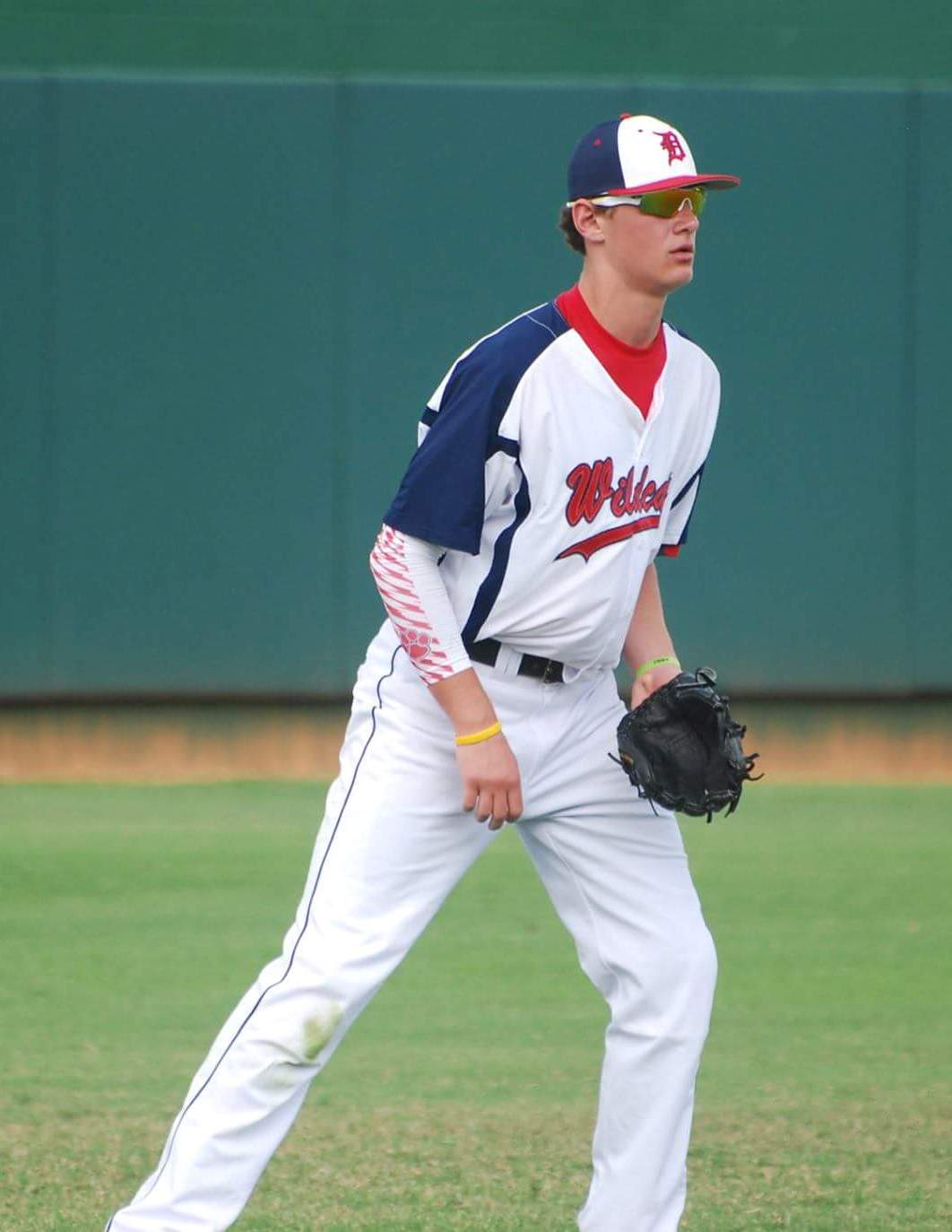 Dylan Kovitch 678-722-1198
E-mail: dylankovitch@gmail.com
Twitter: @kovitch_dylan
Parent:
Michelle Kovitch 678-467-6624
E-mail: michellekovitch@gmail.com
High School:
Dunwoody High School
5035 Vermack Rd.
Dunwoody, GA 30338
Travel Baseball
643 DP 17U  Jaguars Coach:
Taylor Hightower 770-608-9741
E-mail: taylor.hightower@643dpathletics.com