Nationally Ranked in Top 3 as Punting Prospect – Class of 2017
Marist Varsity Baseball Team – P/OF 10th & 11th Grade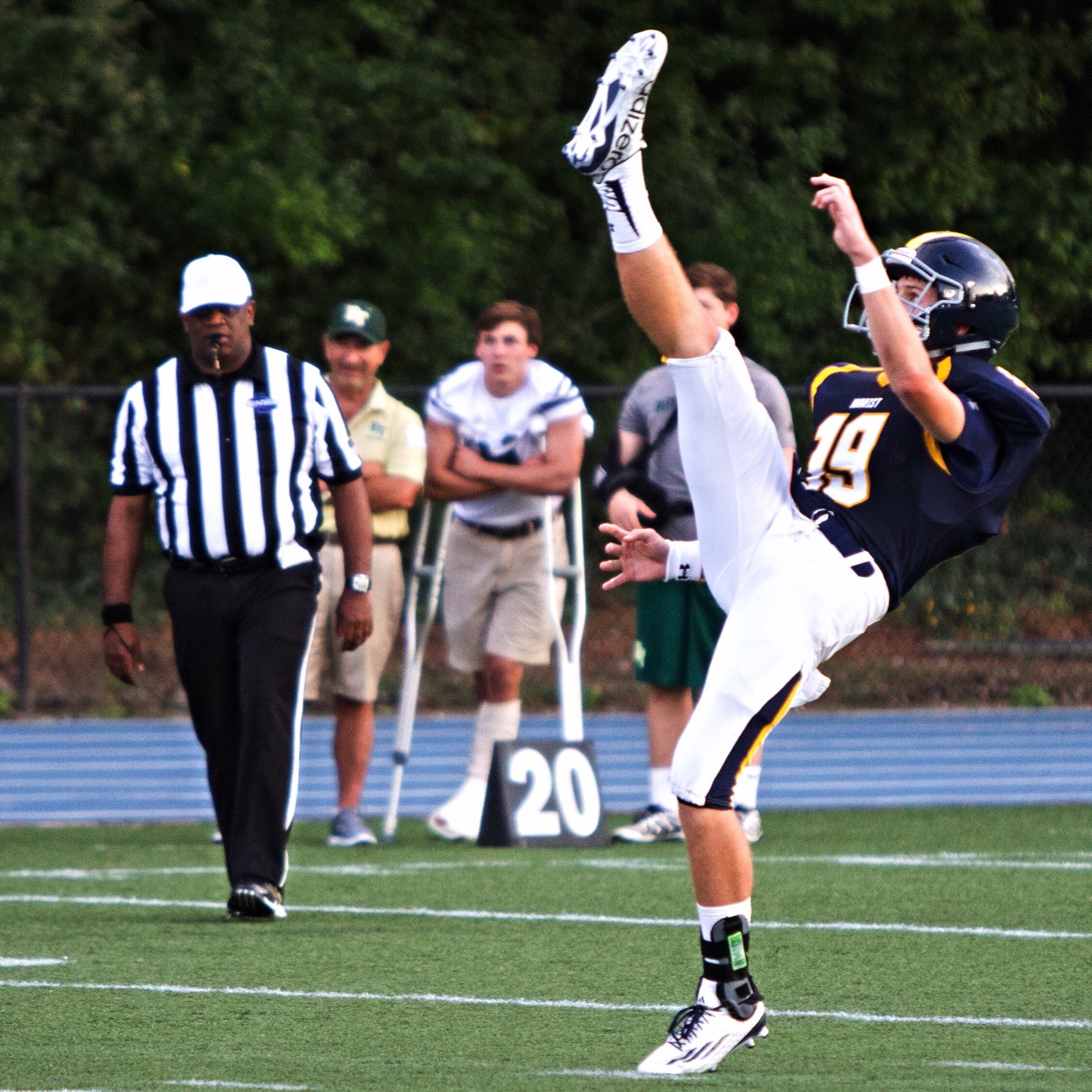 Scouting Report – Bill Rubright, 6′ 2″ 180 lbs,  is a gifted dual sport athlete.  Football 3 Year Varsity – He is one of the nations top punting prospects and is ranked in the class of 2017, number 3 by Chris Sailer and number 4 by Jamie Kohl. (Football – runs 4.52 sec 40 yd dash – Baseball – Bats L).
Kicking  Coach's Comments:
Chris Sailer -"Bill is an excellent punter. He is a great athlete with a perfect punting frame. He is one of the most consistent and reliable punters in the nation. He punts for a great combination of distance and hang time and is able to directional punt. He has all the tools to dominate the D1 level. I think he has a bright future. Look for Bill to get the attention of college coaches this off season and pick up multiple scholarship offers. Big time prospect. " Bill's Profile Link on Chris Sailer's Web Site Click Here
Jamie Kohl – "Punter Bill Rubright from the state of Georgia was by far the best punter at th Southern Showcase Camp. Rubright finished the charting session with a final average distance of 49.67 yards per punt. Rubright dominated the charting phase as well as the drill evaluation session replicating his punt motion. Rubright showed to be a consistent punter who has all the right tools to get the job done at the next level."   Bill's Profile on Jamie Kohl's Web site Click Here
Baseball Scouting Report
– As a sophomore Bill was a starting outfielder for the Marist War Eagles. Bill is an excellent field leader and teammate always bringing a positive attitude to all situations, especially in adversity. Bill has very good speed and ball reading skills and an exceptionally accurate and strong arm from the outfield. He has great swing mechanics and power and is aggressive with pitches in the strike zone. Bill hits curve balls well.
Bill is an extremely accurate pitcher with a fastball in the low 80's (he is still maturing) and throws his curve ball consistently for strikes.
Throughout his developing career, Bill has produced some outstanding statistics, in eight grade ball for Marist and travel ball, Bill pitched 45 innings (all complete innings) without a single walk. He played 22 complete games batting in the mid 400's without striking out at the plate.
In 15U 6-4-3 competition Bill batted .470 and was Offensive Player of the Year for the 6-4-3 Jaguars.  In the World Wood Bat Tournament in Atlanta in 2014 Bill was named to the all-tournament team as a pitcher and hitter. The 2015 Summer Season Bill is playing for the 6-4-3 DP Tigers 16U Team.
Bill is a great student and hard worker with high academic standing.
Personal Statistics
Height: 6′ 2″   Weight: 180 lbs
Marist Varsity Football Jersey #19
Baseball: Bats L Throws R
Academics:
Current GPA: 3.50 Class of 2017
SAT: ACT: Pending
2014 Honor Roll, AP U.S. History
Desired College Major: Finance & Accounting
Honors/Achievements/Activities
2015-2016 Nationally Ranked Punter-
#3 Chris Sailer – #4 Jamie Kohl
3 Year Varsity Football -Only Freshman on Team – Freshman Year
2015 PG Memorial Day All Tournament Team
2014 WWBA All Tournament Team
Varsity Baseball Team: 10th & 11th
6-4-3 DP Athletics 15U Jaguars –
Offensive Player of the Year
Marist Genesis Leader; Peer Leader,
Shadow Day Host, Student Ambassador
Community and Volunteer Activities
Lilburn TOP Soccer Volunteer
NASA Soccer TOP Soccer Volunteer
Buckhead Baseball Christopher League
North Metro Atlanta Senior Assisted Living Volunteer
Contact Information
Prospect:                                                                                  

Bill Rubright
Cell: 770-688-0761
rubrightb@marist.com
Parents:
Mary & Jim Rubright
Home: 404-237-9424 Cell: 678-428-8900
E-mail: rubright@privetfund.com
Travel Baseball
6-4-3 DP Athletics 16u
Coach Scott Haddoc  770-876-3390
Marist School 770-457-7201
3790 Ashford Dunwoody Rd NE
Atlanta, GA 30319
H.S. Team Head Baseball Coach
Mike Strickland 770-891-2327
Email: stricklandm@marist.com
Hitting Coach
Preston Peavy -Peavy Baseball
404-954-BAT1 (2281)
High Speed Video Motion Analysis Systems and More
www.peavybaseball.com
www.peavynet.com One on One Training
www.freebaseballacademy.com One Source for Training
E-mail: CoachPeavy@peavybaseball.com
E-mail: PrestonPeavy@peavynet.com