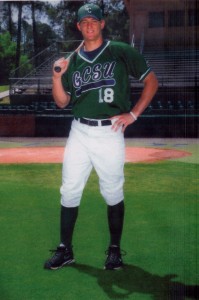 Pirkle Signed Georgia College & State University – All Conference DH Freshman Year, D-2 College World Series All Tournament Team 2010, 2011 Player of The Week, PreSeason All PeachBelt, 2011 MLB Draft Colorado Rockies
Testimonials
Barbara Camp wrote:
Hope this helps get you lots of business.
We discovered C.H.A.M.P.S. while Richard was in the 11th grade. Mark interviewed Richard, wrote a bio and went to many games taking pictures (offensively and defensively) that he used to make a CD of Richard. Mark continuously talked to Richard about what he wanted to accomplish and made suggestions as to which schools might be a good fit.
The fees that C.H.A.M.P.S.  charged were well worth it. They produced a great video and bio to pass out at camps and showcases. In addition, C.H.A.M.P.S.  sent copies (and e-mails) to schools we were interested in and many more we were not familiar with. They tracked all the responses and followed up when needed. All this information was reported back to us. All in all, our son was exposed to much more than we could ever have done on our own.
Richard decided to attend GCSU and was given a scholarship to play baseball. Many thanks to Mark of  C.H.A.M.P.S. Inc. for helping Richard achieve his goal of playing college baseball.
Barbara Camp
bcamp3@comcast.net
Read More Testimonials Here
Message From The Founder